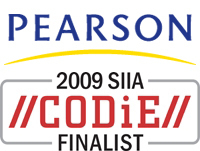 Pearson eCollege combines on-demand, cloud computing learning solutions with engaging content, including digital courses, from Pearson, our partners and others
DENVER (PRWEB) April 17, 2009
Pearson eCollege, which provides integrated education technology, engaging content and multi-level support services for online and blended learning, is a finalist in the Software & Information Industry Association's 24th Annual CODiE Awards. The company earned finalist honors in the Best Postsecondary Course or Learning Management System category.
Established in 1986, the CODiE Awards celebrate outstanding achievement and vision in the software, digital information and education technology industries. Through a unique combination of journalist and expert peer review, the CODiE Awards finalists were chosen from more than 850 nominations submitted by 600 companies.
"Pearson eCollege combines on-demand, cloud computing learning solutions with engaging content, including digital courses, from Pearson, our partners and others," said Matt Leavy, CEO of Pearson eCollege. "Our powerful learning platform provides a complete integrated learning solution for blended and online education that leads to greater, measurable success for hundreds of institutions and their students around the globe."
Pearson eCollege offers a connected learning environment where students and faculty members can use an integrated suite of course tools to connect, collaborate and achieve. The company's unique cloud computing design reduces institutions' operational and financial risks using a Software as a Service (SaaS) delivery model.
Part of Pearson, the world's leading education publishing, services and technology company, Pearson eCollege offers access to such respected imprints as Addison Wesley and Prentice Hall. Pearson eCollege also supports Pearson's interactive, digital content solutions, like the wide array of award-winning MyLabs learning tools and online libraries of customizable courses with CourseConnect.
Overall, seven Pearson products were named as finalists in nine categories in the 24th Annual CODiE Awards. In addition to Pearson eCollege, the honored products are DRA2™ Handheld - Tango™ Software Edition, Perspective™, MyCompLab®, NovaNET®, PowerSchool® Premier 5.2 and PowerTeacher. With these K-12 and higher education curriculum, classroom management and assessment products, Pearson tops the education industry categories with more finalists than any other company.
In the next step of the CODiE Awards process, SIIA members vote to determine the winners in each category. The 2009 CODiE Awards will be presented at a gala event on May 5 at the Palace Hotel in San Francisco.
About SIIA
The Software & Information Industry Association (SIIA) is the principal trade association for the software and digital content industries. SIIA provides global services in government relations, business development, corporate education and intellectual property protection to more than 500 leading software and information companies. For further information, visit http://www.siia.net.
About Pearson eCollege
Pearson eCollege enables educators globally to achieve measurable success for online and blended academic programs and training through on-demand education solutions that advance and improve the teaching and learning experience for learners in multiple types of educational institutions and programs. Pearson eCollege provides a composable (SaaS) learning platform, academic services, rich content solutions and renowned multi-level user support that help students and teachers reach their academic goals. Pearson eCollege is the leading provider of technology and services to the top online schools and programs globally. Pearson (LSE: PSON, NYSE: PSO), the global leader in education and education technology, reaches and engages today's digital natives with effective and personalized learning, as well as dedicated professional development for their teachers. Pearson is dedicated to helping people of all ages to learn at their own pace, in their own way. In addition to Education, Pearson's primary operations include the Financial Times Group and the Penguin Group. For more information, visit http://www.ecollege.com or http://www.pearson.com
Contact:
Stacy Skelly
Stacy.skelly(at)pearson.com or (202) 434-0986
###