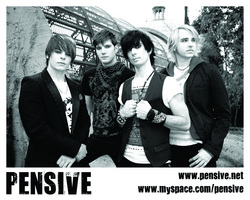 Pensive: The Band Next Door
Los Angeles, CA (PRWEB) April 20, 2009
With a solid history of embracing the digital medium, San Diego powerpop band Pensive announces the release of "Pensive: The Band Next Door," an eight part web based reality series that gives fans an intimate look at the off stage lives of this upcoming rock band. The webisodes are available on Pensive's YouTube Channel beginning on April 17 starting with episode one, "Pensive v. Food," the band's comedic eating challenge at the popular Southern California In & Out Burger. Future episodes visit "The Pensive House," recreate the broken ankle of guitarist Patrick Smith on tour last year, follow the band behind the scenes at a sold out San Diego show, and find the boys at the Imperial Valley Fair up against the carnies.
Pensive's new digital single "Live Fast," scheduled for download on April 21st at all major digital media outlets is from the band's forthcoming full length album Artifacts Special Edition set for release in July. Originally self-released as Artifacts, an independent without distribution, the Special Edition version of the album will be Pensive's first release under the Fontana/Universal umbrella with remixed songs and additional tracks. Bonus track "Soledad," in Spanish, is a nod to audience unity from lead singer Julio Godoy, who finds equal comfort in English and his native language.
"Live Fast," mixed by producer David Bendeth (Paramore, Red Jump Suit Apparatus), described by Andres Martinez of GreenDayAuthority.com as "a fantastic mix of melodic rock and profound pop," has made its first inroads at radio with strong hooks many music directors are finding stuck in their heads. The music video for the song was written and directed by award winning film student Drew Renaud, and the "Live Fast" ringtone will be available for download on April 28th.
Pensive's early internet success first came while still in high school with their independent EP Something About the Stars. Fan favorite "The 3rd of July," became the quintessential cyber-hit, first bringing the band international recognition on the Original MP3.com. Within weeks, the hooky boy-loses-girl heartbreaker racked up some 170,000 plays and topped the world wide Pop Punk Chart for 76 days. While kids couldn't get the song out of their heads, Pensive popped onto the Top 40 Chart for 48 days, where "The 3rd of July" at its peak reached #14.
Just off a six state Midwest spring break tour, Pensive doesn't rest on its internet savvy to spread the word and build its fan base. These self-proclaimed gypsies have three years of touring across thirty states under their belts, with upcoming summer and fall national tours in the works.
Pensive website: http://www.pensive.net
Pensive on MySpace: http://www.myspace.com/pensive
Pensive Videos: http://www.youtube.com/pensiveband
###