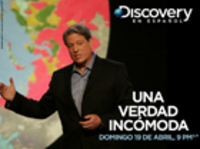 The Earth has always defined our brand. Programming is a key tool in our arsenal to communicate our love for the planet. Yet we view our commitment as more than the spectacular specials we bring to our audiences. That is why we continually look for additional ways to enlist and inspire
Miami, Florida (PRWEB) April 20, 2009
Discovery en Español is going all out in the month of April and beyond in celebration of Earth Day and our planet, by launching a multifaceted campaign that encompasses a number of on-air, online, and grass roots components. These are designed to inform and inspire viewers to reflect on the state of our planet, create awareness and incentivize them into becoming an active part of the solution.
Starting with an exclusive television event, Discovery en Español will premiere, for the first-time ever on Spanish network television in the U.S., An Inconvenient Truth. Airing on Saturday, April 25 at 9 PM ET/ 6 PM PT, this epic and visionary film, released by Paramount Vantage, about the state of our planet garnered prestigious awards including an Oscar® and a Grammy®, and propelled Al Gore to win the Nobel Peace Prize. During this eye-opening and poignant documentary, viewers will come face to face with some harsh realities. Yet, this film is not about doom and gloom but a means to catalyze us into awareness and action to protect the magnificent planet we all share.
"The Earth has always defined our brand. Programming is a key tool in our arsenal to communicate our love for the planet. Yet we view our commitment as more than the spectacular specials we bring to our audiences. That is why we continually look for additional ways to enlist and inspire," said Luis Silberwasser, Senior Vice President and General Manager of Discovery Networks U.S. Hispanic Group.
As part of this ongoing commitment, this April Discovery en Español is also unveiling the first component of an exciting new partnership with La Onda Verde de NRDC, the Hispanic voice of the Natural Resources Defense Council created to inform and involve Hispanics across the U.S. and around the world about what they can do to help protect our earth. The NRDC is the nation's most effective environmental action group, combining the grassroots power of 1.2 million members.
The joint campaign entitled "3 Pasos 3 Personas" will initially be comprised of an on-air and online component incorporating a call to action that will drive viewers to become involved by visiting http://www.discoveryenespanol.com/3pasos.
"The goal of this campaign and the online application developed for this purpose is to motivate viewers to make three simple eco-changes in their lives that can make a difference, and then inspire 3 friends to do the same," said Adrianna Quintero, director of La Onda Verde. "The applications will make it easy for people to learn about simple actions to save the planet. It will enable them to easily challenge friends to do the same by kindling conversations on social networks such as Facebook and Myspace as well as via e-mail."
As the campaign progresses people will see the total number of commitments and associated impact on water, energy and recycling. This will serve as a clear and measurable illustrator of how simple actions can indeed have a resounding impact.
The ongoing partnership between La Onda Verde and Discovery en Español is not limited to the April initiatives listed above, but will also encompass additional activities throughout the year, including a grass roots component and other initiatives to be unveiled at a later date. This important partnership brings the power and reach of the Discovery en Español brand hand in hand with the powerful grass roots strength of La Onda Verde.
Be the first, do your part and join the wave of action on behalf of our amazing Planet by logging onto http://www.discoveryenespanol.com/3pasos.
In addition, the network has other on-air specials scheduled throughout the month that speak to our planet and its wonders. These thought provoking series, including "Stuff Happens", slated to air within Discovery en Español's Green Block, a dedicated green programming slot which airs Saturday nights at 9 PM ET/ 6 PM PT, are but a single component of the ongoing commitment by the network to this very important and pivotal issue.
DISCOVERY EN ESPAÑOL'S IMPACTFUL GREEN PROGRAMMING

An Inconvenient Truth - April 25 at 9 PM ET/ 6 PM PT.
Planet Earth Marathon - EARTH DAY - April 22 at 7 PM ET (9 PM PT)
Discovery en Español Green Block Programming Initiative - Saturday evenings at 9
PM ET/ 6 PM PT
About Discovery en Español
Discovery en Español is the Spanish-language voice of Discovery. It is the premiere network dedicated to offering the finest in quality programming in the areas of science and technology, world culture and history, nature and wildlife as well as real-life drama. The network creates an indelibly enriching experience by collecting the best of what Discovery's networks have to offer in combination with its own original Spanish-language content. Created by the world's most trusted media brand, Discovery en Español translates not just the words, but the feeling of Discovery, educating and engaging audiences nationwide with fascinating glimpses into the incredible world they inhabit. For more information, visit http://www.discoveryenespanol.com.
About La Onda Verde
La Onda Verde is an initiative of the Natural Resources Defense Council (NRDC) aimed at informing and involving Spanish speaking and bilingual Hispanics on environmental issues. NRDC is the nation's most effective environmental action group, combining the grassroots power of 1.2 million members and online activists with the expertise of more than 350 lawyers, scientists and other professionals. Visit La Onda Verde at http://www.laondaverde.org
###