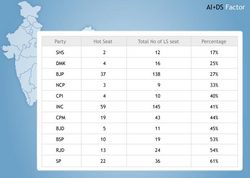 Negative impact of the AI-DS factor may be severe in as many as 205 Lok Sabha seats. There is a drastic drop of 30 percent in what can be termed as 'safe' constituencies of different parties as per our survey details
Mumbai, MH (PRWEB) April 19, 2009
IndiaVoting, an edutainment site by Insite Digital, in a survey titled "AI-DS factor impact of General Elections 2009" has outlined that the AI-DS (combined impact of Anti-Incumbency PLUS Delimitation of Seats) factor will severely impact the fortune of different political parties in General Elections 2009.
"Negative impact of the AI-DS factor may be severe in as many as 205 Lok Sabha seats. There is a drastic drop of 30 percent in what can be termed as 'safe' constituencies of different parties as per our survey details", says Ajay Sharma, Director, Insite Digital.
AI-DS factor is the number of seats to be impacted negatively as a combination of negative trends, for different parties currently holding on these seats.
Congress I may be the worst hit with 59 AI-DS impact seats, whilst in AI-DS impact percentage (in proportion to seats held in 14th Lok Sabha), it will be the Samajwadi Party with a whopping 61 percent of seats now likely to witness a negative impact (22 out of 36 seats in the 14th Lok Sabha).
Entire survey is available here on IndiaVoting.com
At the same time, one party's loss is another party's gain. Who gains and who loses is what the General Elections 2009 will decide, albeit in a more unpredictable way than earlier elections.
IndiaVoting offers highly interactive visual-led content with more than 2,000 political cartoons specially created around General Elections 2009, 100 crosswords, 3,000 quiz questions and a host of multimedia games that don't just entertain but also help increase general awareness on Indian politics.
###