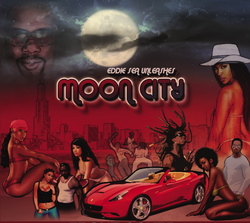 to the feel good songs like
Chicago, IL (PRWEB) April 19, 2009
Eddie Sea is releasing an album that reflects his memories of his Childhood through adult years in the tough, but elegant streets of Chicago. For years Eddie "Sea" has been serenading the world with the Underground G-funk legendary rapper Swolts. Producing 5 Albums. Now he's ready to embrace the world with his Compilation album "Moon City" which all of the songs he wrote and produced." Moon City will take you to a place in your mind where music has no boundaries.
The album, 'Moon City', consists of fourteen original songs written by Eddie Sea, each providing a combination his high-energy production, melodious vocals and heartfelt lyrics. Several singers, and musicians perform these hypnotic, organic, and beautiful works of art.
"Moon City" reflects the same sounds and images when music was in it's glory days of the 70's. Great stories combined with real life events that meld together with real singers and seasoned musicians. This Album is a collection of songs from different genres, which Eddie "Sea" has written and assembled some of the world's great talents to sing and play on it. Recorded in his home studio "Diamond Atmosphere" "Moon City" has that home grown Chicago magic. Witnessed in the form of the great Chess and Motown records.
With relatively all live instruments from flutes to sitars, "Moon City" gives you an opportunity to enjoy an alternative to the mainstream and current radio play list.
All of the songs send messages that will reach anyone from a child to a person in their senior years. Eddie writes for the soul.
Eddie "Sea" says "We have to get music back to how music was in the 70's when people had passion about listening to their favorite artist, it was a blood, sweat, and tears era. And that's what I intend to do. This album is a reflection of my influences over the years and the changes that I've experienced recently in my life. Beautiful stories witnessed on "I Am Love (acoustic guitar song) " to the controversial "Sunrise In Bangkok" to the feel good songs like "Fire" and "Underwater Paradise" And the funky dramatic Sly Stone influenced "Afro" with bassist Aaron Mills from the funk group Cameo singing and playing. Moon City is an album you can't afford to leave on the shelf.
Eddie "Sea" has written and created for the world's inner soul.If you enjoy Stevie Wonder, Chaka Khan, John Legend, Michael Jackson, Minnie Rippleton, Sly Stone, Tupac Shakur, Erika Badu, Lenny Kravitz, Robin Thicke, this is the album for you. Moon City has elements of Neo-Soul, R&B, Soul Rock, Latin, Acoustic, Funk, Hip Hop, and World Music all fused into one organic masterpiece.
###