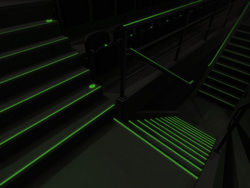 And at the end of their useful life, they can be sent to a recycling facility for recovery of the aluminum
New York, N.Y. (PRWEB) April 22, 2009
Access Products, Inc., announced today that its Ecoglo® path-finding and emergency lighting systems meet all new U.S. building code performance requirements.
The company's announcement comes at a time when more and more U.S. cities are upgrading their building codes to require photoluminescent emergency lighting systems for stairwells and exit pathways to ensure safe passage for visitors during power outages.
The movement to photoluminescence began in 2004 when New York City, acting on recommendations of its World Trade Center Building Code Task Force, adopted Local Law 26 that requires photoluminescent systems in all buildings over 75 feet high. The New York law mandates retroactive installation of non-electrical exit signs and markings in all high-rise buildings regardless of when they were built.
Since then, other U.S cities have passed similar amendments to their building codes. Performance requirements can include a minimum luminance at 90 minutes of 5mcd/m2 and conformance to tests for flammability, toxicity, radioactivity, washability and (optionally) UV stability.
In addition, effective January 2009 the International Code Council (ICC) also revised the International Building Code and the International Fire Code (IFC) to require non-electrical exit path markings in new and existing public buildings of 75 feet or more (UL1994).
The National Fire Protection Association (NFPA) 101 Life Safety Code also requires the use of photoluminescent materials for "internally illuminated" exit signs (UL924). Markings are required on all step edges and handrails, and as perimeter markings of the exit pathways, including stairwell landings.
"We're very pleased to announce that testing results demonstrate that our many Ecoglo products easily meet all of the new building code requirements, and have proven themselves to be highly effective, durable and cost-effective," said David Murray, vice president of sales and marketing for Access Products, Inc., the Buffalo, N.Y.-based firm that manufactures and distributes Ecoglo products in North America (http://www.us.ecoglo.com).
Murray pointed out that last October Ecoglo handrail and step-edge products were retrofitted in Cadillac Fairview's two, 12-story Bloor Street buildings in Toronto to meet international fire code standards.
"The principles behind Ecoglo's patented emergency lighting technology are really very simple," Murray said. "The active photoluminescent element contains crystals in a pigment that absorb natural or artificial light and then re-emit the light to quickly guide people to safety under any conditions. Ecoglo doesn't require any additional power source."
The Ecoglo product line includes:

Exit stairway products that feature photoluminescent and anti-slip properties for step-edge contrast strips, stair nosings and thresholds;
Way-finding products that feature photoluminescent and anti-graffiti-coated emergency signage, handrail strips, aisle markers and seat numbers.
Murray explained that unlike some competitors' products, "The technology behind Ecoglo was not adapted from novelty items or signage. Our Ecoglo products are built with a high-grade aluminum base and the high-visibility photoluminescent strip is bonded to the metal at 350 degrees Fahrenheit for long-lasting durability. They are designed to be walked on, even the signs."
Ecoglo's patented application process embeds the pigment in a clear, durable polymer that ensures maximum glow efficiency. The photoluminescent strips quickly become fully charged within 60 minutes, depending on the light source, and emit a steady green glow that will continue to glow for up to 100 hours.
The high-brightness design ensures that it will be visible to people in a darkened stadium or high-rise building for hours following a blackout, allowing sufficient time for egress.
"All of our products have been tested for durability in the lab and in real-life installations," Murray said. "What we've found is that Ecoglo's hard, long-lasting finish will maintain its luminescence for the life span of most buildings, and it's a less expensive alternative to standard emergency lighting systems."
On the subject of cost, Murray pointed out, "There are many issues associated with using the traditional form of stairway egress lighting. It becomes costly to not only run these lights all day, but to also pay the high costs of regular maintenance."
Instead of using additional electricity, Ecoglo emits a glow after absorbing any type of light. Ecoglo serves as a reliable lighting source in the event that backup generators also fail during a power outage.
In addition to being highly effective, durable and cost-effective, photoluminescent products are proven to be environmentally safe and friendly. "Our customers definitely favor 'green' building materials, and more and more local codes require 'green' buildings," Murray said.
Photoluminescent products help to conserve valuable resources because they do not consume any additional electricity; instead, they harvest nature's sunlight or reuse existing electrical light. And the materials are non-toxic, non-radioactive and are made with recycled aluminum.
"And at the end of their useful life, they can be sent to a recycling facility for recovery of the aluminum," Murray added.
Access Products, Inc.'s Ecoglo line provides a range of stairway and way-finding products that absorb light and provide superior visibility in light, dark and dim conditions. The company's systems currently are installed in stadiums, arenas, performing art centers and movie theatres in the U.S. including the U.S. Naval Academy in Annapolis, Md.; Tulsa Convention Center, Tulsa, Okla.; Coral Springs Center for the Arts, Coral Springs, Fla.; Denver Coliseum, Denver, Col.; Arizona State University, Tempe, Ariz.; San Jose State University, San Jose, Calif. and Time Warner Center, New York City. Internationally Ecoglo has been installed in numerous locations in Dubai, Hong Kong, Singapore, the United Kingdom, Germany, India, Australia, Canada and New Zealand. For more information, visit http://www.us.ecoglo.com.
###