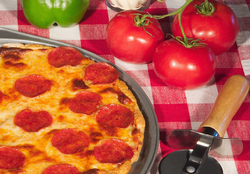 Milk is one of the easiest items to successfully replace in baking
Denver, CO (PRWEB) April 20, 2009
Families who avoid wheat or dairy as part of the treatment for an autistic child can bake their favorite wheat-free, dairy-free foods at home, says Carol Fenster, who joins other experts in observing April as National Autism Awareness Month.
"Replacements for wheat and milk can be found in grocery or natural food store; the secret is knowing how to use them in baking " says Fenster, author of Gluten-Free 101, a beginner's cookbook that uses substitutes for wheat and dairy.
Instead of wheat flour, she bakes with flours made from brown rice, beans, corn, sorghum, soy, or potatoes. Since no single flour can replace wheat flour, Fenster blends a variety of different flours together and then uses these blends to replace wheat flour in baking. These flour blends and recipes for pizza, brownies, and other favorites can be found on her web site at http://www.GlutenFree101.com
"Milk is one of the easiest items to successfully replace in baking", says Fenster, who founded her educational firm over 20 years ago. "Choose from a variety of milk substitutes made from rice, potato, soy, or nuts. Look for those that are fortified with essential nutrients," she advises. There are also dairy-free versions of cream cheese, sour cream, cheese for pizza, and whipped cream in natural food stores.
The incidence of autism has skyrocketed in the last decade. According to http://www.autismspeaks.org, about 1 in 150 children born today will be diagnosed with this neuro-biological disorder. Experts believe that some autistic children react to gluten (a protein in wheat---and barley, rye, and spelt) and casein, a milk protein found in dairy products. These experts explain that removing these foods may help some autistic children function more optimally.
Children with autism aren't the only ones who avoid wheat and dairy. Others have allergies or intolerances. Nearly 3 million Americans have celiac disease, an autoimmune condition where gluten limits the body's ability to absorb nutrients. Many celiacs are also lactose-intolerant.
To learn more about gluten-free, casein-free diet for autistic children, go to http://www.gfcfdiet.com. For more information about cooking without wheat or dairy, go to http://www.GlutenFree101.com.
Contact: Carol Fenster, (800) 741 5418; 303.741.5408
###