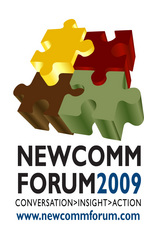 How One Nonprofit is Using Web 2.0 Technologies, and What it Means for Your Organization
Palo Alto, Calif. (PRWEB) April 20, 2009
The 5th Annual New Communications Forum (http://www.newcommforum.com) will be held April 27-29, 2009 at the Marriott Hotel in San Francisco, Calif. NewComm Forum is the leading conference that brings together thought leaders and decision makers to discuss the impact of social media and new communications on PR, marketing, advertising, media, journalism, and business. NewComm Forum '09 will feature presentations by the Fellows of the Society for New Communications Research (SNCR - http://sncr.org) and Keynote Conversations from a wide variety of luminaries, including:
Opening Keynote with Charles Best, Founder, DonorsChoose.org, winner of the American Express Members Project, on "How One Nonprofit is Using Web 2.0 Technologies, and What it Means for Your Organization," with Q&A moderated by SNCR Fellow Geoff Livingston
Chris Brogan, President, CrossTech Media with "You Shall Know Us By Our Dialtone: Presence in Business Communications"
SNCR Fellows Laura (@Pistachio) Fitton, author of Twitter for Dummies, and Shel Israel, author of Twitterville, with industry analyst and co-author of Groundswell, Charlene Li "Twitter: Exploring the Impact of Micro-communications Tools"
SNCR Fellow Alan Kelly, president, The Playmaker's Standard addressing the question "What's in a Tweet"
SNCR Fellows Paul Gillin and JD Lasica discussing "A World Without Media: What Will Fill The Void?"
SNCR Fellows Joseph Thornley and J.D. Lasica with Forrester analyst Jeremiah Owyang and Amy Muller, GetSatisfaction discussing "Things That Go Bump In the Night - Challenges of Managing Social Media"
Closing Keynote with Andrew Haeg, Senior Producer & Analyst, American Public Media, & John S. Knight Fellow, Stanford University
In addition to a wide variety of keynote presentations, NewComm Forum 2009 will feature nearly 30 sessions, panel discussions, and roundtables focusing on blogger and influencer relations, online community management and development, collaboration and co-creation strategies, organizational transformation, social media program management, online reputation management, social media metrics and measurement, social interaction design, crowdsourcing, global trends in mobile media and new media & journalism models. Participants will discuss how social media, new communications and Web 2.0 is affecting business models and economic behavior, how social media can enhance innovation, and learn best practices for successfully implementing and managing social media.
For more information and to register, visit http://www.newcommforum.com or call 650-331-0083.
NewComm Forum '09 is sponsored by: Marketing Executives Networking Group (MENG), BlogHer, Business Wire, DNA13, Mashable, Online News Association, Silicon Valley Watcher, Visible Technologies, and Vocus.
About the Society for New Communications Research (SNCR)
The Society for New Communications Research is a global nonprofit 501(c)(3) research and education foundation and think tank focused on the advanced study of the latest developments in new media and communications, and their effect on traditional media and business models, communications, culture and society. For more information, visit http://sncr.org.
###