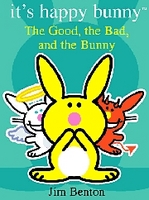 the most visible cartoonist In America
New York, NY (PRWEB) April 20, 2009
GoAnimate.com , the online platform that enables everyone to create their own customizable animations, today announced that it has signed a licensing agreement with CopCorp Licensing to add Jim Benton's popular (and hilariously rude) It's Happy Bunny™ to its ever-expanding list of characters. You can now create full animations using It's Happy Bunny, providing a whole new world of possibilities for interacting with and creating your own insulting humor to share with your friends.
"We're huge fans of It's Happy Bunny, and love the mix of attitude and humor that it brings," said Alvin Hung, Founder and CEO, GoAnimate.com. "Now, everyone can create their own It's Happy Bunny animations - which completely uncaps the possibilities for creativity and humor within the It's Happy Bunny community. We're looking forward to seeing what's created!"
It's Happy Bunny is the award-winning creation of author and illustrator Jim Benton. To date, It's Happy Bunny has appeared on everything from stickers and buttons to greeting cards and posters, always featuring a colorful It's Happy Bunny with one of its trademark attitude-filled slogans. For the first time ever, GoAnimate.com enables It's Happy Bunny to come to life in fully animated form, giving you the ability to fully interact with your favorite snarky bunny and create your own hilarious animations.
"GoAnimate did a great job animating It's Happy Bunny," said Jim Benton, creator of It's Happy Bunny. "It's fun to see my drawings come to life."
To see the It's Happy Bunny characters, and to download images, please visit: http://press.GoAnimate.com.
What's Can I Do?
With the launch of It's Happy Bunny, you can now take advantage of the following features on GoAnimate.com:

Customize the Bunny - Have you ever wanted to make It's Happy Bunny bright orange and make his nose yellow? Red and teal? Brown and blue? Go for it! GoAnimate.com lets you fully customize the color of the It's Happy Bunny character that you decide to animate for a totally personalized experience.
Slideshow - Gives you the ability to upload your own photos and automatically generate an animated slideshow. GoAnimate.com has the industry's first ever photo slideshow to utilize character animations, and now you can let a pre-animated version of It's Happy Bunny present your photos to your friends! You can upload your photos from Facebook, Flickr and other sites in a snap to get started. To create your own photo slideshow, visit: http://goanimate.com/go/slideshow
Sharing with Your Friends - GoAnimate's platform makes it simple to save and share your animations and slideshows right from the site, including integration of both Gmail and Yahoo! Mail contacts, Facebook, MySpace, Twitter, Digg, Del.icio.us, StumbleUpon and Reddit.
To get started creating your animations and slideshows, please visit: http://goanimate.com/
Sounds Cool… But I Can't Draw At All
GoAnimate.com's animation platform makes it incredibly easy for anyone to create an animation, with absolutely no artistic ability required. All it takes is a few clicks of the mouse, and the GoAnimate.com platform automates all of the animation processes for you. You can type in your own captions, or even record your voice to add more life to your animated insults! Once an It's Happy Bunny animation is created, you can easily share it with your friends, social networks, and the greater It's Happy Bunny community as a whole.
To start insulting your friends with It's Happy Bunny animations, please visit: http://goanimate.com/
About Jim Benton and It's Happy Bunny
Jim Benton, whom People Magazine called "the most visible cartoonist In America," is the writer/artist of three different, popular, illustrated book series - including not only the fan favorite It's Happy Bunny series for Scholastic but also the best-selling and critically acclaimed Dear Dumb Diary book series (Scholastic) and the much loved Franny K. Stein kids book series (Simon & Schuster) -- and the creator of several successful licensed properties.
The It's Happy Bunny licensing program has been recognized with a prestigious Licensing Industry Merchandisers' Association (LIMA) International Licensing Excellence Award in each of the last four years. It's Happy Bunny first won for Best Art Brand License of the Year in 2005, followed by the award for Best Character Brand Licensee (for soft goods) in 2006. In 2007, It's Happy Bunny won again for Best Character Brand Licensee, this time for hard goods. And in 2008, It's Happy Bunny won for Best Character Brand of the Year and it won a Special Merit Award for Outstanding Creativity in Licensing for CopCorp's Drug-Free America Program. CopCorp with the 2008 Merit Award for Licensing Creativity for its work on the It's Happy Bunny Drug-Free Bunny campaign.
Benton is no stranger to animation, having created/co-written and executive produced the animated series THE SECRET FILES OF THE SPYDOGS which ran for two seasons on Fox Kids. Jim also provided all character design and some storyboard work on the series.
About CopCorp Licensing
CopCorp Licensing is global licensing agent for Jim Benton's It's Happy Bunny. CopCorp Licensing is known as an innovative and strategic licensing agency that specializes in the development of brand, character, art, publishing, and entertainment based licensing opportunities for presentation and packaging to the manufacturer and retailer communities. Led by Carole Postal, Founder and President, CopCorp Licensing develops, sells, negotiates, markets, and implements complete licensing strategies and programs for major entertainment corporations, artists, art studios, apparel brand names, among many others.
About GoAnimate, Inc.
GoAnimate, Inc. is an entertainment website that enables everyone to simply and easily create their own animations. GoAnimate was created by a bunch of guys who love animation, and who wanted to enable everyone to share in the joy of animation without any need for previous training. We believe the world is made up of great stories, and we want to empower you to creatively tell yours and then share them with your world. To get started, please visit http://goanimate.com/.
Headquartered in New York, GoAnimate has offices in the Bay Area and Hong Kong. For more information or to partner with GoAnimate, please contact Stone Newman, Senior VP of Licensing and Business Development, at stone (at) goanimate (dot) com.
# # #