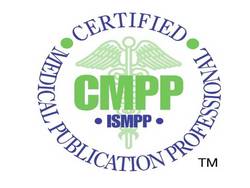 Briarcliff Manor, NY (PRWEB) April 20, 2009
The International Society for Medical Publication Professionals (ISMPP) completed the first round of testing for candidates for the newly established Certified Medical Publication Professional (CMPP) credential.
Approximately 75 candidates submitted their applications, and 63 individuals sat for the exam during the month of February. Candidates can apply now for the September 2009 CMPP certification exam--the next 30-day testing window.
In order to be eligible for the exam, candidates must meet a minimum set of education and experience criteria. To receive the credential, they must pass the validated 150-item, multiple-choice, computer-based examination administered at an approved testing center. This exam assesses candidates' knowledge across four content domains related to medical publication planning and development.
The CMPP credential will signify a level of knowledge and experience required to effectively plan, develop, and implement a medical publications program. The CMPP credentialing effort demonstrates not only ISMPP's ongoing commitment to the medical publication planning profession, but also its mission to support scientific and professional integrity in medical publications.
The exam is given twice yearly at approved testing centers across the United States and Europe, and is open to ISMPP members and non-members. Eligibility criteria and other details related to the examination process are covered in the ISMPP CMPP Handbook, available at http://www.ismpp.org.
About ISMPP:
Established in 2005 and now over 800 members strong, ISMPP is the only not-for-profit organization for medical publication professionals. ISMPP is at the forefront of information sharing and debate among medical publication professionals and offers a variety of education and advocacy programs to help industry members stay abreast of the ever-changing landscape and address issues affecting their profession and the medical publication community at large. The members of ISMPP represent a cross-section of the industry and include professionals who are actively engaged in medical publication planning in the agency; pharmaceutical biotech, and device company; and publishing settings.
For more information on becoming a Certified Medical Publication Professional, or to learn more about ISMPP, please send an email to ismpp@ismpp.org, or contact Kim Pepitone, Director of Certification and Professional Development, at kpepitone (at) ismpp (dot) org or 908.419.0753).
###