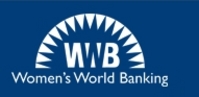 New York, NY (PRWEB) April 20, 2009
To mark its 30-year anniversary, Women's World Banking (WWB), the world's largest network of microfinance institutions and banks, will host in New York its Global Meeting on April 27 and 28, and its 7th annual Microfinance and the Capital Markets Conference, sponsored this year by J.P. Morgan, on April 30 and May 1. Both the Global Meeting and Capital Markets Conference will focus on tools for managing financial risk in an uncertain economic climate and why focusing on women is a sound strategy in good times and bad. The WWB Global Meeting Dinner, to be held on Wednesday, April 29th at Tavern on the Green, honoring global women's rights advocate Cherie Blair, wife of former British Prime Minister Tony Blair, will bridge the Global Meeting and Capital Markets Conference. Tickets to the benefit dinner are available on the WWB website. Press access inquiries for these events should be directed to Group Gordon.
"WWB pioneered the convening of microfinance institutions, investors, rating agencies, bankers and other financial system players, providing them the opportunity to network among peers, discuss innovative financial solutions, and learn from each other," said WWB President and CEO Mary Ellen Iskenderian. "WWB's Global Meeting and 7th annual WWB Capital Markets Conference is part of our continuing effort to build awareness of ongoing developments and investment opportunities in microfinance, which not only alleviates poverty but can generate new profits and lines of business for the international investor community."
This year's Global Meeting, aptly titled "Focusing on Women: A Winning Strategy in Bad Times and Good," is a leading microfinance event, bringing together WWB network members from forty-six microfinance institutions and banks in thirty countries to share lessons learned, best practices, and goals for the future. The Global Meeting will open with a keynote address by Mary Robinson, former president of Ireland and United Nations High Commissioner for Human Rights. Recently appointed U.S. Ambassador-at-Large for Global Women's Issues Melanne Verveer will also address the Global Meeting. President Obama's decision to create Ms. Verveer's position is unprecedented and highlights the current spotlight on global women's issues, the longtime focus of WWB. Panel topics at the meeting will include risk management strategy, product diversification, leadership, and managing during difficult times.
The 7th annual WWB Microfinance and the Capital Markets Conference, titled "Maximizing Access in a Capital Constrained Environment," will provide a collaborative environment for leaders from the financial and microfinance communities to network, discuss concrete funding deals, learn about key capital markets transactions in the industry, and take advantage of emerging opportunities by developing innovative ways of increasing access to financial products and services. Newsweek Senior Editor Daniel Gross and TIAA-CREF CEO Roger Ferguson, Jr. will be featured speakers.
"Microfinance has remained a healthy investment option in these uncertain times," said Roger W. Ferguson Jr., President and CEO of TIAA-CREF. "We began our own $100 million global microfinance investment program in 2006 and continue to explore investment opportunities with the greatest impact from both a financial and social perspective."
The Capital Markets Conference will have a special focus on the volatility of current capital markets; global and regional insights of the current capital landscape; industry consolidation; the state of debt and equity markets; capital structure optimization; risk management; and outlooks for 2009 and beyond. The conference will also feature a competition in which MFIs team up with J.P. Morgan employees volunteering their time, to generate innovative solutions to current industry hurdles. The MFI competition will feature relevant case studies and provide the audience with the opportunity to gain knowledge from "live" lessons learned.
"J.P. Morgan views microfinance as an untapped market opportunity with the potential to provide reasonable financial returns and improve the lives of hundreds of millions of low-income families," said Christina Leijonhufvud, Managing Director and Head of Social Sector Finance, J.P. Morgan. "We are proud to support Women's World Banking in the effort to expand the investor base for microfinance services to low-income communities."
About Women's World Banking:
WWB is a global network of 54 microfinance providers and banks, working in 30 countries to bring financial products and services to low-income entrepreneurs, especially women. The network serves 11 million microentrepreneurs directly, and another 10 million indirectly through its bank partners and other regional networks. WWB is supported by an international team of experts based in New York that delivers expertise in product design and distribution, access to capital markets, and customer care and insight. For more information on WWB, please visit its website at http://www.womensworldbanking.org .
About J.P. Morgan:
J.P. Morgan is a leader in wholesale financial services with one of the most extensive client franchises in the world. J.P. Morgan is part of JPMorgan Chase & Co., a leading financial services firm with assets of $2.2 trillion and offices in more than 60 countries. The firm is a leader in investment banking, financial services for consumers, small business and commercial banking, financial transaction processing, asset management, and private equity. Visit http://www.jpmorgan.com .
Confirmed Speakers for WWB Microfinance and the Capital Markets Conference:
Daniel Gross, Newsweek
Roger Ferguson, Jr., TIAA-CREF
Ann Miles, Blue Orchard
Elizabeth Littlefield, CGAP
Xavier Reille, CGAP
Louise Moretto, Deutsche Bank
Chikako Kuno, EBRD
Dr. James Mwangi, Equity Bank
Charles Nalyaali, Equity Bank Uganda
Elizabeth Nava Salinas, FIE
André Laude, IFC
Suzanne Nora Johnson, Goldman Sachs
Heather Henyon, Jameel-Grameen
Norma Corio, J.P. Morgan
John Buley, J.P. Morgan
Nick O'Donohoe, J.P. Morgan
Deborah Papson, J.P. Morgan
Christina Leijonhufvud, J.P. Morgan
Sanjay Sinha, M-CRIL
Brian Cox, MFX Solutions
Wagane Diouf, Mecene Investment
Stephen Mitchell, Mercy Corps
Micol Guarneri, Microfinanza Rating
Gil Crawford, MicroVest
Ron Dadina, Minlam Asset Management
Henry Gonzalez, Morgan Stanley
Piyush Tantia, Oliver Wyman
Alex Silva, Omtrix
Debbie Moronese, OPIC
Cyrille Parant, PlaNIS
Franklin Kennedy, ShoreCap
Gary Kochubka, Standard & Poors
Roland Dominicé, Symbiotics
Ganhuyag Hutagt, TenGer Financial Group
Luca Torre, Tree Tops Capital
###