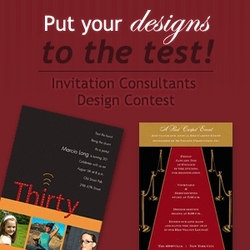 An artist lives in each of us and we want to evoke the nation's artistic abilities by hosting this contest
Tampa, FL (PRWEB) April 22, 2009
Calling all aspiring designers! Invitation Consultants.com, the online destination for party and wedding invitations and social stationery, is inviting up-and-coming designers to create a specialty invitation design for the website, through the company's first-ever invitation design contest. The company is seeking individuals nationwide to enter original works for a chance to win cash prizes up to $1,000, and have the piece featured and sold on the company website.
"An artist lives in each of us and we want to evoke the nation's artistic abilities by hosting this contest," said Olivier De Meulder, Vice President of Invitation Consultants, Inc. "It is our belief that having a multitude of fresh, stylish and original designs is important to meet the demands of our consumers and what better way to find great ideas than through new talent."
Designs will be reviewed and judged on four areas: originality, creativity and use of both color and space. The contest is open to any designer young or old, entry level or skilled. Entrants may also choose what style of design they want to submit, as Invitation Consultants offers everything from birthday and wedding invitations, to fun and quirky pet announcements. Artists can showcase their own area of expertise and design in a distinctive invitation, based on what truly interests them.
"We are excited to provide unknown creatives the opportunity to have one of their original designs showcased for thousands to see and purchase, said Allison De Meulder, CEO Invitation Consultants, Inc. "This opportunity could truly launch someone's design career, while giving them a unique platform to be recognized."
Alongside Invitation Consultants, a diverse judging panel will select the winning designs. The judges are: Margaret Wong, Co-Founder of Project Wedding, Jennifer Sbranti, Founder of Hostess with the Mostess, Vicki Phipps, Director of Program Planning for HGTV, and Meredith Garcia, Co-Founder of TheFashionList.com.
The contest runs Monday, April 20 through Monday, July 20. The winners will be announced on Monday, August 3 on the website. The chosen winners will receive cash prizes, including $1,000 for first prize, $500 for 2nd prize and $250 for 3rd prize, and their designs available for purchase on the Invitation Consultants website.
More information about the contest, rules and regulations, and how to submit designs, can be found at: http://www.InvitationConsultants.com/designcontest.aspx
About Invitation Consultants, Inc.
Invitation Consultants is a full service, online invitation company based in Tampa, FL, that assists customers in selecting, ordering and personalizing invitations, special occasion announcements and stationery for every style and event. The company was founded in 1999 by Allison De Meulder. Currently, Invitation Consultants offers consumers 9,000 products. To learn more about Invitation Consultants and its offerings, please visit InvitationConsultants.com.
###