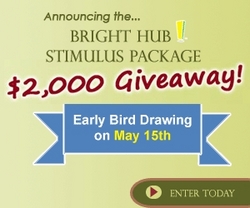 Troy, NY (PRWEB) April 22, 2009
Bright Hub, the fastest-growing expert writer community for health, science, education, and technology, today announced their Economic Stimulus Package Sweepstakes offering 10 $200 Visa® gift cards. This giveaway, designed to raise the awareness of the great expert content on Bright Hub, offers three early bird winners and seven final prize winners the chance to win some extra spending money at a time when budgets are tighter than ever.
"As household incomes shrink, readers are searching for information on continuing education, budgeting tips, recycling, gardening…even bargain bin video games," states Tracy Sabattis, VP of Community at Bright Hub. "We are thrilled to offer people a chance to put some extra money in their pocket, while inviting new readers to check out the wealth of information we offer on diverse subjects such as personal finance, education, green living and video gaming."
Over one million readers a month visit Bright Hub to get insight directly from hundreds of expert writers that contribute articles daily. All of the content on Bright Hub is driven completely by the writers and editors benefiting readers through the diverse viewpoints presented on the website.
To learn more about Bright Hub's $2,000 Stimulus Package Giveaway, and the rules for this sweepstakes, go to brighthub.com/win.
About Bright Hub:
Bright Hub is the fastest-growing expert writer community on the web, providing pertinent health, education, science and technology information for today's online content consumer. The Bright Hub editorial and writer community are passionate about equipping readers with knowledge to make informed decisions by providing information such as product reviews, how-to articles, and insight related to how technology and science affects our lives. Bright Hub is a venture-backed company, headquartered in Troy, New York. Visit brighthub.com for more information.
###