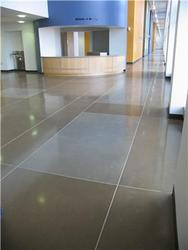 Calimesa, CA (Vocus) April 22, 2009 –
Due to its low maintenance requirements, and boundless design possibilities, concrete polishing has become the preferred flooring application for commercial floors. ConcreteNetwork.com, the leading source for concrete polishing information, has revealed its top five polished concrete projects, submitted by contractors across the country. For contractors and consumers interested in polished concrete, projects detail the processes and techniques involved and also include project photos.
Hospitals, gyms, and schools are recognizing the many benefits of polished floors. The top five projects, based on viewer statistics collected by The Concrete Network, include:
1. A hospital floor polished to resemble granite.
2. Various gym floors featuring acid-stained polished floors.
3. A tanning salon floor polished and accented with vibrant coloring techniques.
4. A university science center floor that created some challenges for contractors.
5. And lastly, a school's hallways are updated with polished concrete.
These are just a few of the hundreds of floor surfaces that can benefit from polishing.
Concrete polishing is not limited to commercial applications and is quickly gaining popularity in the residential market as well. For more information on all that polished concrete can offer for commercial and residential floors, visit the polished concrete section on ConcreteNetwork.com for articles, photos and more.
Read more about concrete.
Established in 1999, The Concrete Network's purpose is to educate consumers, builders, and contractors on popular decorative techniques and applications. These include stamped concrete, stained concrete floors, concrete countertops, polished concrete, and much more. Over 10 million people visit ConcreteNetwork.com per year to research, get ideas and to find a contractor.
The site excels at connecting buyers with local contractors in their area through its Find a Concrete Contractor service. The service provides visitors with a list of decorative concrete contractors throughout the U.S. and Canada, and is fully searchable by more than 20 types of decorative concrete work in over 200 regional areas throughout North America.
Photos courtesy of Colorado Hardscapes in Denver, CO.
###