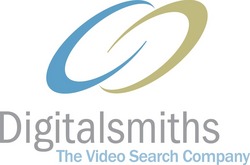 Bob and Melissa bring nearly forty years of capable and masterful industry experience and Digitalsmiths is poised to continue its rapid acceleration into 2009 and beyond under their guidance.
Research Triangle Park, NC (PRWEB) April 21, 2009
Digitalsmiths, the innovative video indexing, analysis and publishing technology provider, today announced it has added two executives to its senior management team. Robert Bryson, a former senior executive from Move Networks has joined the company as senior vice president of sales and business development, and Melissa Sargeant has been named vice president of marketing. The new additions follow a recent investment from Cisco Media Solutions Group and a $12 million Series B round of funding announced last November.
The new hires were brought in to help accelerate and manage growth after a recent surge in demand for Digitalsmiths' renowned indexing and video management solutions. In recognition of the company's continued expansion, Digitalsmiths was recently appointed to the 2009 OnHollywood 100 list, an accolade extended to emerging technology companies in the media and entertainment industries. List inclusion is based on demonstration of growth, market opportunity, quality of innovation and customer traction.
"Amidst a dynamic industry of shifting consumer behaviors and new forms of advertising, Digitalsmiths has a market-proven technological platform that engages consumers while meeting the needs of professional content owners," said Ben Weinberger, chief executive officer of Digitalsmiths. "Bob and Melissa bring nearly forty years of capable and masterful industry experience and Digitalsmiths is poised to continue its rapid acceleration into 2009 and beyond under their guidance."
Digitalsmiths indexes video with an unprecedented sense of context, nuance and intelligence that opens up entirely new revenue streams for existing content. The company's suite of visual interpretation tools processes each frame of video with proprietary algorithms including facial recognition, scene classification, and object recognition and assigns that information to a unique time-coded index. The company's frame-by-frame analysis creates extensive metadata, facilitating more efficient search and more effective contextual ad placement.
Bryson has more than 20 years experience in technology and media sales and marketing. As senior vice president of sales and business development, Bryson will be responsible for corporate development, strategic partnerships and developing customer relationships. Before joining Digitalsmiths, Bryson was senior vice president of sales and business development at Move Networks, where he led all sales and business development as well as the commercial deals and strategic relationships with Disney Media Networks, Disney ABC Television Group, ESPN Media Networks, Fox Interactive Media, My Space, Fox Broadcasting, TheCW Network, Warner Brothers, and Televisa. Previously, he served as SVP of sales and marketing for Knowledge Universe and I-Link, and as SVP of business development for Media Station. He also held positions with Novell and IBM Rolm Systems.
With more than 17 years experience, Sargeant joins Digitalsmiths as VP of marketing, where she will lead the marketing and media efforts for the company. She previously served as a director of product marketing for CA, Inc. (formerly Computer Associates), one of the world's largest software management companies. Prior to CA, Inc., Sargeant was vice president of marketing at Bluefire Security Technologies and has held senior marketing positions at Mercator Software, Guardent and BNX Systems.
"Digitalsmiths has proven itself as a pioneering innovator and digital video solutions leader in the media and entertainment market," Bryson said. "The company's world-class enterprise platform is uniquely designed to assist premium content owners and distributors in monetizing their film and television libraries online and across traditional distribution models. Over the past eight years, Digitalsmiths has built the right technologies to power its digital video integrated services platform, enabling industry-leading media companies to bridge and integrate their business operations across open broadband networks and traditional film and television hybrid networks. I'm thrilled to jump in with the leadership team and help take the company to the next level while accelerating the digital media audience reach of our customers."
About Digitalsmiths:
Digitalsmiths is an innovative video indexing and digital content publishing technology provider serving major Hollywood studios, web video destinations, media companies and advertisers. The company's proprietary computer-vision based video indexing, search and interpretation algorithms empower content owners and publishers to efficiently monetize their digital video content, and advertisers to automatically target ads to thematically relevant video content. Digitalsmiths is based in Research Triangle Park, N.C. The privately held company is funded by Cisco, .406 Ventures, The Aurora Funds and Chrysalis Ventures. For more information, please visit: http://www.digitalsmiths.com.
###