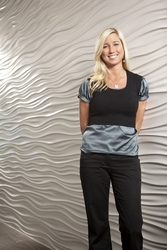 PURE Living, PURE Thinking, PURE Dental
Dallas, TX (PRWEB) April 21, 2009
PURE Dental, Dallas' first contemporary, eco-friendly dental practice, has brought on locally-renowned dentist Dr. Kim Jackson to lead its first location in Mockingbird Station.
Formerly of Floss Dental in Dallas, Dr. Jackson has built a substantial following in the area during her three years of practicing dentistry; notably for her attention to detail, caring touch, dynamic personality and ability to connect with patients.
"I am absolutely thrilled to join PURE Dental," Jackson said. "Having a wonderful staff and high tech equipment to deliver optimal care for my patients is one thing, but it's even more rewarding to know that what I'm doing is positively affecting the environment."
"Nothing I had seen moved me the way in which PURE Dental did; merging integrated optimal patient care, commitment to excellence in dentistry and environmental awareness," Jackson added.
A graduate of Southern Methodist University and the Baylor College of Dentistry in Dallas, Dr. Jackson began her career at Floss Dental in Dallas' uptown. She also has applied her passion and skill in dentistry on several dental mission trips to third-world countries, providing dental care for the underserved.
"Having first met Dr. Jackson years ago when she was a student of mine at Baylor College of Dentistry, I knew that she would go on to be extremely successful in Dallas," PURE Dental founder Dr. Brody Hildebrand said. "Not only is she an extraordinary dentist, but she's young, energetic and eco-minded -- and that makes her relevant to the consumer."
PURE Dental opened in March 2009 as the first eco-friendly dental practice in North Texas. Merging a chic, modern interior space with eco-friendly practices, Dr. Hildebrand has created one of the first "eco-chic" dental practices in the country.
To learn more about PURE Dental or to make an appointment, visit http://www.puredallas.com.
About PURE Dental:
Merging eco-friendly practices into a fresh, progressive approach to dental care, Dallas-based PURE Dental offers an innovative, excellent choice in dental services at an affordable price. We continually strive to make the typically awkward dental visit comfortable for our patients, delivering a truly customized experience to each, while providing both conventional and "green" products. To learn more about our "PURE Living, PURE Thinking, PURE Dental" philosophy, visit http://www.puredallas.com.
###