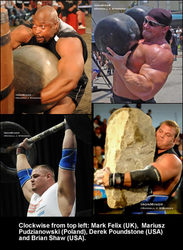 We're totally pumped to have entered into an exclusive partnership to present one of the fastest-growing sports on the globe
New York, NY (PRWEB) April 23, 2009
Giants Live (http://www.giantslive.net), an arena-based series of live strongman competitions, has been named the Official World's Strongest Man Qualifying Tour for 2009-2011. The first 2009 qualifying event will take place May 17 at the Mohegan Sun Casino Arena in Uncasville, Connecticut.
"We're totally pumped to have entered into an exclusive partnership to present one of the fastest-growing sports on the globe," said Mark Avery, CEO of AEG ThemeSTAR. "Our expertise in arena-based sports competition promises to deliver a unique entertainment experience - audiences will be truly amazed by incredible feats of strength on a scale that can only be presented in an arena setting."
"It takes a lot of muscle to find the World's Strongest Man, and I'm excited to be part of a powerful three-year collaboration among IMG Sports Media, AEG ThemeSTAR, Crystal Entertainment and Show Productions," said Colin Bryce, former strongman competitor, ex-Olympian and CEO of Show Productions. "Audiences who witness Giants Live will truly be seeing something unique in the world of strongman competitions."
Each Giants Live qualifying event will find 12 of the world's greatest strongmen battling for supremacy across six grueling disciplines including Truck Pull, Log Lift, Refrigerator Carry, The Pillars of Hercules, Car Deadlift and Atlas Stones. A top-three finish gains the competitor championship points and a place at the World's Strongest Man Finals.
The end of the Giants Live season will see the winner crowned "Giants of Strength World Champion." Past champions include five-time World's Strongest Man Mariusz Pudzianowski of Poland, America's Strongest Man Derek Poundstone, Britain's Strongest Man Terry Hollands and seven-time Sweden's Strongest Man Magnus Samuelsson.
The Giants Live tour will consist of a minimum of four qualifying events in 2009 and will grow to as many as 12 events by 2011. Each Giants Live qualifying event will be filmed for global television broadcast distribution and, where applicable, local broadcast.
Following the May 17 qualifying event in Connecticut, Giants Live will travel to Stavanger, Norway for an event on June 6. Additional qualifying events will be announced shortly.
About AEG ThemeSTAR, Crystal Entertainment and Show Productions
AEG ThemeSTAR (http://www.aegthemestar.com) is a world-renowned producer and presenter of family entertainment, currently touring productions in seven languages in over 40 countries. The AEG ThemeSTAR team is recognized for its entrepreneurial innovation and its operational effectiveness working with major brands including Warner Bros., Nickelodeon, HIT Entertainment, Mattel, Universal Studios, Disney, Viacom, Cirque Du Soleil, Sesame Street, Ringling Bros., FIFA, Sydney 2000 Olympic Games, the NFL and more.
Crystal Entertainment (http://www.crystalent.co.uk), Crystal Entertainment is a highly respected cutting-edge development fund and organization, established by Charles Garland, ex-COO of 19 Entertainment (creators of American Idol and managers of David Beckham). Crystal focuses on working with talent and content creators to build valuable entertainment brands.
Show Productions (http://www.colinbryce.tv) is owned by Colin Bryce, an ex-Strongman competitor and Olympian. Colin is a major force in the world of strongman sport and serves as head referee, commentator and executive producer for The World's Strongest Man (TWI), Britain's Strongest Man (TWI), Super Series and World Strongman Cup, and is commentator for the BBC (Winter Olympics), Ch5 and Eurosport.
About IMG Sports Media:
Operating in 30 countries, IMG Sports & Entertainment's diverse businesses include product and brand licensing; consulting services; event ownership and management; collegiate marketing, media and licensing; fashion events and models representation; golf course design; and client representation in golf, tennis, broadcasting, speakers, European football, rugby, cricket, motor sports, coaching, Olympic and action sports. For additional information, visit their Web site at http://www.imgworld.com.
###