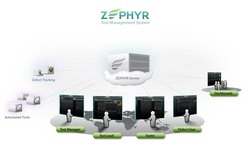 Given the current global economic climate, we are seeing a lot of customers and prospects focusing on measuring quality and improving their testing efficiency and tester productivity as a way of aligning their costs - and our new release gives them more ways to accomplish these goals. The SaaS benefits are also becoming more apparent to our customers
Sunnyvale, CA (PRWEB) April 21, 2009
Zephyr, the leader in on-demand test management software, announced today the general availability of its Zephyr v2.5. The new release includes a new test requirements management offering, support for multiple languages, and a wealth of additional features focused on productivity and efficiency improvements. Zephyr's Software-as-a-Service (SaaS) platform is now available to customers across all industry sectors.
Zephyr has become the on-demand Test Management Platform that manages all aspects of the testing lifecycle, integrating various test tools and systems while providing global access, collaboration and management visibility. With Zephyr, enterprises are able to manage test resources, testing projects, releases/sprints, requirements, test cases, scheduling, test execution, defects, documents, automation, collaboration, metrics and reporting.
The updated version continues to support the needs of dynamic global test departments. New capabilities include:

A test requirements management application that allows for the creation, organization and management of all testing related requirements with two-way testcase mapping and tracking. This provides deep insight into the quality lifecycle with increased metrics and end-to-end traceability
A new integration API that extends Zephyr's integration capabilities with commercial, open-source and homegrown automation frameworks. Test automation results can now be auto updated in Zephyr
New UTF-8 capability which allows Zephyr to provide support for multiple languages besides English
Numerous personalization improvements which greatly enhance tester productivity
"More than ever, companies are turning to Zephyr as a leader in delivering test management on-demand, rather than continuing to invest in capital expenditures for on-premise software and hardware," said Samir Shah, Zephyr's Chief Executive Officer.
"Given the current global economic climate, we are seeing a lot of customers and prospects focusing on measuring quality and improving their testing efficiency and tester productivity as a way of aligning their costs - and our new release gives them more ways to accomplish these goals. The SaaS benefits are also becoming more apparent to our customers," continued Shah.
Zephyr consistently delivers enterprise-class capabilities via SaaS at a fraction of the cost of buying, implementing, maintaining and evolving on-premise solutions. Zephyr also delivers significantly faster time-to-value compared to on-premise approaches.
About Zephyr:
Zephyr is delivering an on-demand Test Management Platform in the Cloud with a new generation of applications designed to meet the needs of today's dynamic and global Test and Quality Assurance departments. Built on a completely new model, Zephyr uses modern, standards-based technologies to provide an unparalleled level of agility, ease-of-use, and integration capability.
Zephyr is privately held and headquartered in Sunnyvale, California. For more information about Zephyr, please visit http://www.getzephyr.com
###