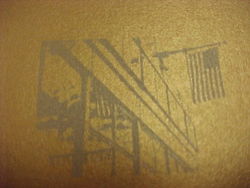 Gilbert, AZ (PRWEB) April 21, 2009
Worldwide Laser offers environmentally friendly laser marking systems that will aid in eliminating harsh earth damaging inks, chemicals, solvents, and paper labels while providing maximum protection to consumers and manufacturers. Worldwide Laser for your entire laser needs visit http://www.wlsc.com. Contact voice 480.892.8566 option 5 fax 480.497.9661
Trouble reading? See our newsletter in bigger text http://www.wlsc.com/laser-marking-etching/blast/09/
Worldwide Laser provides laser marking and laser cutting systems for a broad range of products with the LP series of laser systems. In the applications highlighted in this newsletter the LP series of laser systems from Worldwide Laser are utilized for three different industries however in all cases the laser marking systems from Worldwide Laser provide significant beneficial environmental impact as these laser marking systems eliminate inks, chemicals and solvents all of which are damaging to the environment and also to consumers. Worldwide Laser's series of laser marking systems provide for the maximum protection of consumers (with permanent product identification) protection of manufacturers and protection of planet earth by providing sustainable industrial laser marking systems. Please enjoy reading these applications.
In the first application our series LP9000U UV (355nm) laser marking system is used to mark the leather cover of an album, the LP9000U UV laser from Worldwide Laser allows placement of the individual unique personal markings on the covers of photo albums, books, diaries, etc. The laser marks are made with little or no smoke, flame, or debris usually associated with traditional Co2 and YAG lasers. Also the UV laser marking does not create any damage to the surface of the leather product leaving the surface almost completely smooth to the touch while still creating a highly readable color contrasting laser mark. Let the laser system experts at Worldwide Laser assist you with your next project using the LP9000U series of UV laser marking systems.
Our next application we have a piece of galvanized pipe and engraved it with an Nd:YAG laser marking system the LP9000D series of lasers. This series of YAG lasers (1064 nm for diode or lamp pumped lasers and 1067nm for fiber lasers) allow metal and many other non-organic surfaces to be laser marked to any depth desired creating permanent product identification. The use of laser marking in these applications also is very beneficial for the environment as laser marking eliminates pollution caused by inks, solvents, glues, and other chemicals which are required for traditional marking methods.
The final application discussed today demonstrates laser marking human readable text and standard (or data-matrix) bar codes on thin glass slides. The UV laser marking series of lasers allows the slides to be laser marked with very low power (generally less than 3 watts) the laser marking produces a white frosted highly readable contrasting laser mark and because little or no heat is transferred into the glass no micro-fractures of cracking takes place eliminating the major issues associated with laser marking glass (especially thin glass) with a Co2 laser. Once again all paper/plastic labels, inks, glues, solvents, and other chemicals associated with marking these products are eliminated creating significant positive impact on the health of the environment and consumers.
Worldwide Laser offers reliable earth friendly and environmentally friendly laser marking systems for all of your product marking requirements. Contact us today at voice 480.892.8566 option 5 or fax 480.497.9661 or email info@wlsc.com. Be sure to visit our website http://www.wlsc.com to see other applications.
Trouble reading? See our newsletter in bigger text http://www.wlsc.com/laser-marking-etching/blast/09/
About Worldwide Laser
Worldwide Laser headquartered in Gilbert, Arizona and founded in July of 1986 builds laser cutting, laser marking, and laser etching systems. Types of systems are Co2, YAG, Fiber and UV. Worldwide Laser systems have wavelengths of 9300 and 10600 nm for Co2; 1064 nm for YAG; 1067 nm for fiber; and 355 nm for UV.
Worldwide Laser systems are either galvo head or fixed beam systems. Our lasers start at 10 watts up to 500 watts and can cut, mark and etch almost any product.
Worldwide Laser is one of the only remaining manufacturers of T.E.A. mask Co2 lasers, the LP2000 series which can be driven either by spark gaps or thyratrons. In the mask T.E.A. business Worldwide Laser is one of the leading suppliers for new and refurbished parts or beam delivery components for Lumonics Laser Mark Series and also for refurbished Lumonics Laser Mark lasers. Co2 lasers from Worldwide Laser either sealed beam or T.E.A. Co2 can be utilized for high speed and high quality laser marking or laser cutting.
Worldwide Laser provides laser systems for integration into existing equipment/production lines or can design and build a complete turn key laser system to meet your company requirements.
Worldwide Laser has customers and offices in 10 countries in addition to the United States and a full range of product handling systems with technical support staff and installation engineers.
Worldwide Laser offers laser consulting & custom Microsoft Windows-based laser controller software for our Co2, YAG, Fiber & UV laser systems. For more information about Worldwide Laser call 480.892.8566 option 5 or visit our web site http://www.wlsc.com.
# # #