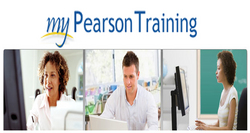 myPearsonTraining.com helps teachers get the most out of their course materials without taking our educators away from their number one priority - teaching students
Boston, MA (PRWEB) April 21, 2009
In the face of increasing budget cuts and more and more demands on their time, today's teachers are seeking easy, quick access to training and professional development that will help them make the most of the many new and innovative products and services now available for 21st century learning. Launched in the fall of 2008, http://www.myPearsonTraining.com does just that by providing product-based tutorials and live webinars which bring educators face-to-face with Pearson's education solutions.
With a click of the mouse, kindergarten through high school teachers can access hundreds of Pearson's tutorials 24/7 and sign up for web-based seminars --all at http://www.myPearsonTraining.com. More than 200,000 educators already have accessed the website, learning strategies for successful program implementation.
"myPearsonTraining.com helps teachers get the most out of their course materials without taking our educators away from their number one priority - teaching students," said Claire Hollenbeck, director of training and professional development at Pearson. She added, "Pearson's investment in Internet-based training meets teachers where they are, anytime and anywhere. We know our teachers are teaching with technology; now it is their chance to learn with technology."
The Website's flexibility offers training to night owls and early birds in a convenient format that does not require extra software downloads or complicated computer applications. Currently, teachers can work with more than 20 of Pearson's research-based learning programs in a wide array of disciplines to learn tips and best practices, including help with implementation of technology components.
Two training options are available to educators: self-paced tutorials and instructor-led webinars. The 60 to 90 minute webinars are led by highly trained former classroom teachers who deliver interactive product orientation and customized in-depth training. To ensure all teachers can effectively take advantage of myPearsonTraining.com, webinars are hosted on a variety of dates and times. Educators can even join together in large groups and access the online training with a speakerphone and projection screen.
The on-demand, self-paced tutorials walk teachers through step-by-step Flash-based movies that explain how best to use Pearson textbooks and technology products. Both training options are offered as a complimentary service from Pearson to help educators acquire the training they need to improve student achievement.
"Our teacher and administrator users are telling us that the training sessions are incredibly useful, convenient, informative and comprehensive, giving them a fuller sense of our Pearson programs. MyPearsonTraining is one more way Pearson has committed to partnering with schools to help maximize the success of students," Hollenbeck said.
Program-specific training is available at myPearsonTraining.com for these Pearson programs:

enVisionMATH
Scott Foresman's Reading Street 2008
Developmental Reading Assessment, 2nd Edition
QuickReads and QuickReads Tech
AMP Math
Realidades
Investigations
Connected Mathematics Project, 2nd Edition
Prentice Hall California Mathematics
New York Integrated Algebra
Prentice Hall Mathematics 2007
This summer, additional training will be available for California Reading Street 2010, Miller and Levine Biology 2010 and Prentice Hall Literature 2010.
For more information, visit http://www.myPearsonTraining.com or follow "PearsonTraining" on Twitter@pearsontraining.
About Pearson and Professional Development for Teachers: myPearsonTraining.com adds to Pearson's comprehensive on-site professional development offerings which are directly aligned to its school products. Pearson also offers face-to-face professional development to support the implementation of its instructional programs including in-depth training, extended training and job-embedded classroom coaching and modeling. Pearson also offers individualized customized professional development to meet a district's specific needs in any discipline at any level.
Additionally, through its Allyn & Bacon and Merrill education materials, Pearson's Teacher Education and Development business supports teachers throughout their careers, from undergraduate through professional development and advanced degrees. Pearson's research-based professional development services for teachers include Learning Teams, an evidence-based, collaborative model that brings together teachers to learn from each other, refine their skills to improve student performance and self-assess their progress; and the Sheltered Instruction Observation Protocol (SIOP), a groundbreaking approach to teaching English language learners that uses "sheltered instruction" to teach subjects such as math, science or social studies in a way that makes the concepts easier to understand, while at the same time strengthening a student's academic English language development.
About Pearson:
Pearson (NYSE:PSO), the global leader in education and education technology, reaches and engages today's digital natives with effective and personalized learning, as well as dedicated professional development for their teachers. This commitment is demonstrated in the company's investment in innovative print and digital education materials for preK through college, student information systems and learning management systems, teacher professional development, career certification programs, and testing and assessment products that set the standard for the industry. The company's respected brands include Scott Foresman, Prentice Hall, Addison Wesley, Benjamin Cummings, PEMSolutions, Stanford 10, SuccessNet, MyLabs, PowerSchool, SuccessMaker, and many others. Pearson's comprehensive offerings help inform targeted instruction and intervention so that success is within reach of every student at every level of education. Pearson's commitment to education for all is supported by the global philanthropic initiatives of the Pearson Foundation. Pearson's other primary businesses include the Financial Times Group and the Penguin Group. For more information, go to http://www.pearson.com.
###