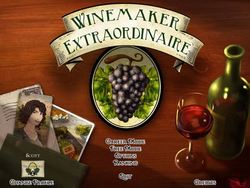 Leader of the World Guild of Extraordinary Winemakers.
Kansas City, MO (PRWEB) April 21, 2009
UCLICK®, a leader in casual games for PC, mobile and online, in partnership with Merscom, today announced the release of "Winemaker Extraordinaire," a new casual game that takes players around the world on a quest to create the perfect wine, transforming a rural winery into a world famous vineyard. Players can try it out for free starting today, exclusively on BigFishGames.com.
As a special bonus, included with the purchase of the game is a 1-year free subscription to your choice of one of four top-rated magazines. For details on this limited time offer, go to BigFishGames.com and download the free trial version of "Winemaker Extraordinaire" at http://bit.ly/e1eX8.
In "Winemaker Extraordinaire," players take on the role of Maria Bellaventura, the heroine, who finds out that she has inherited an Italian winery and must leave her stress-filled life to take over the family business. Besides saving her great grandfather's winery, Maria's goal is to collect all the pieces of the legendary Vino Ultimate recipe, realize her great grandfather's dream of restoring peace among the 15 members of the winemakers Guild and earn her place as the "Leader of the World Guild of Extraordinary Winemakers."
"Whether you are a wine enthusiast or you just enjoy a great game, 'Winemaker Extraordinaire' is the game for you," said Uclick CEO Douglas Edwards. "This is a gorgeous game that immerses players in the rich history, lush settings and storied tradition of winemaking. It doesn't matter if you're a wine connoisseur or have very little prior knowledge of the winemaking process - the beautiful design and intuitive game play of 'Winemaker Extraordinaire' offers a sweet escape for anyone."
"We are really excited to team with Uclick on this fantastic game," said Lloyd Melnick, Chief Customer Officer at Merscom. "Although it is the first casual game set in the wine industry, it is likely to appeal to all gamers, casual and core, wine aficionados and beer drinkers. We think it is the next big casual game franchise."
"Winemaker Extraordinaire" with a special magazine offer is available now for download exclusively on the leading gaming site Big Fish Games. For more information, visit http://bit.ly/e1eX8.
About Uclick
UCLICK® is a leading digital entertainment provider of innovative games for PC, mobile and online syndication. Uclick is a also a leading creator and distributor crosswords, word and number puzzles, comic strips, manga, graphic novels, editorial cartoons, and other content for desktop web and mobile phones. Partners featuring Uclick content include the leading consumer portals Yahoo!, MSNBC.com, New York Times, washingtonpost.com, CNN, USA Today, and AOL. Uclick features include the top brand franchises Garfield, Doonesbury, Calvin and Hobbes, Paul Frank, Teenage Mutant Ninja Turtles, TOKYOPOP, USA Today, Pat Sajak, Wyland, and many more. Uclick creative content and services are available through the GoComics.com website, U.S. mobile phone operators, the iTunes App Store, and other distributors worldwide. UCLICK, LLC is a division of Andrews McMeel Universal, the leading newspaper syndicate and publisher of humor books and calendars in North America.
For more information on Uclick, visit http://www.UclickGames.com.
About Merscom:
Merscom is a global publisher of mass market computer and video games that distributes games through multiple channels, multiple platforms and multiple revenue models. Merscom's channels include retail distribution in the US and Europe, online sale through major portals worldwide and games on Microsoft® Xbox Live® Arcade. Merscom publishes games from leading casual game developers, including Media Art, Reflexive Entertainment, Gunnar Games and Elefun. Merscom produces entertaining products for gamers of all ages and guarantees all customers a great experience. For more information, visit http://www.merscom.com.
###