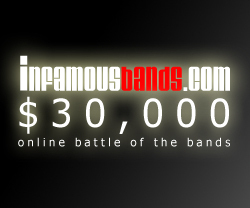 Dallas, TX (PRWEB) April 22, 2009
Musicians and music fans worldwide are invited to participate in the Beta program at InfamousBands.com, the newest social media property from Infamous Publishing. The Beta program is scheduled to last 90-120 days, and will serve as a testing ground for the InfamousBands.com $30,000 Worldwide Online Battle of the Bands. Thousands of bands from around the world have already registered to compete.
During the Beta, bands and musicians can upload their original music and compete to become the Beta winner of one of six new music channels - rock, pop, urban, country, blues, and instrumental. Music will be judged by fans invited by the bands and musicians using the social media tools provided by InfamousBands.com. The Beta winner will become a featured band on InfamousBands.com, and will earn a spot in the 2010 $30,000 Grand Finals.
In addition to uploading music contest entries, bands will also be able to upload their entire discographies, making them available for sale and download through InfamousBands.com. 75% of all revenues from song and album download sales will be paid directly to our bands.
Infamous' participating bands will also have access to dozens of tools and resources to help organize and promote themselves through the INFAMY Band Management System, including a worldwide Venue Database and directories of record companies and legal resources, which will be rolled out at various points during the Beta. Other promotional tools such as mailing list managers, online media kits, social media recruiting tools, and a robust contact manager will be made available to all participating bands and musicians.
InfamousBands.com is 100% free to all musicians, bands, and fans, and Infamous Publishing is actively seeking sponsors and advertisers to support this growing community. Please visit http://www.InfamousBands.com for sponsorship information, or to pre-register as a Beta Band.
###