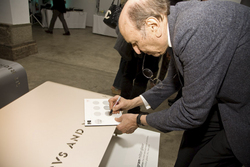 Creativity Empowered for Positive Change
Los Angeles, CA (PRWEB) April 21, 2009
He is a visionary, artist and designer of our time. His resume includes a myriad of projects from book covers, album covers, famous logos -including the 'I Love New York' logo, the new version of this same after 9/11,and the DC comics bullet-, magazine and newspaper design, interior design and even 'underground gourmet' when he used to write about good cheap restaurants in NY for 'New York Magazine', which he Co-founded with Clay Felker in 1968.
He has also been the subject of solo exhibitions at the Centre Pompidou in Paris, The Lincoln Center Gallery, The Houghton Gallery and many more. In addition, his work is included in many permanent collections internationally.
Mr. Glaser's career paved the way for design and illustration to be intelligent and to serve causes that have a social impact. It is under this premise that Mr. Glaser created 'Epigram' for Botanist, a series of playful furniture pieces that are both classic and innovative. Water-jet technology is used on a recyclable aluminum sheet to cutout phrases coined by the artist, then bent into three different sizes -End table, Cocktail table and Bench- with each size featuring a unique phrase.
Besides taking the term 'conversation piece' to a new level, these are the only furniture pieces ever created by the designer, this as part of Botanist; a collective effort from renown designers to bring awareness to causes they are passionate about. Each piece in the Botanist catalogue donates funds to a charitable organization chosen by the designer.
Proceeds from the sales of Mr. Milton Glaser's designs will benefit the International Rescue Committee.
These pieces, guaranteed to become a classic, can be used both indoor and outdoor and are available for Residential and Contract applications.
Learn More About Botanist
Learn More About 'Epigram' by Milton Glaser
"Creativity Empowered for Positive Change": Botanist donates funds to over ten foundations worldwide and serves as a platform to create awareness for important social issues.
**Subscribe to the Botanist Newsletter and receive a voucher for $100 off in all Botanist products. Get $100 OFF.
###