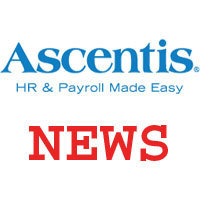 Human resources and accounting managers intuitively know that there is significant, bottom-line cost savings realized when HR and payroll processes are fully automated
Bellevue, Wash. (PRWEB) April 21, 2009
Ascentis Corporation, a market leader in easy-to-use HR software and online payroll services, has recently launched its brand new Cost Savings Calculator available without registration on the corporate Web site http://www.Ascentis-Savings-Calculator.com. The Calculator clearly displays, using standard industry metrics, the savings a company could realize over the course of one year from automating human resources and payroll processes with Ascentis HRIS and online payroll services. Most companies will find savings that reflect more than the cost of the software and services during their first year of workforce automation.
The Ascentis Cost Savings Calculator allows the visitor to provide specific information that factors manual procedures used in the human resources and payroll functions of their company. Data is collected about HR processes such as reporting, paper-based filing, benefit-plan enrollment, carrier bill reconciliation, time-off approvals, and answering employee benefit questions. Payroll process considerations include payroll processing frequency, reporting, management of payroll taxes, multiple identical data entry tasks, and delays created by payroll processing.
The Calculator takes less than five minutes to complete, and returns quantifiable savings data that can be used in justifying an HRIS and/or online payroll investment. (Results are calculated based on the average time spent performing manual functions by human resources and payroll professionals paid the median annual salary as determined by Salary.com™.)
"Human resources and accounting managers intuitively know that there is significant, bottom-line cost savings realized when HR and payroll processes are fully automated," explains Kristen Hayer, Ascentis director of sales and marketing. "But that fact can be challenging to quantify. The new Ascentis Cost Savings Calculator is a quick and easy-to-use tool that returns solid savings information instantaneously. In this economic climate, it's more important than ever that HR and payroll departments find ways to increase productivity while reducing costs. These divergent objectives can be easily achieved with Ascentis HRIS and online payroll technology."
Ascentis HR software and online payroll services are an important factor in process cost reduction for more than 1,500 U.S.-based companies.
About Ascentis
Ascentis Corporation provides medium-sized businesses with fully integrated HRIS and online payroll services. Ascentis' easy-to-use solutions offer robust employee benefits management, electronic connections to carriers, employee self-service and real-time, online payroll processing. For more information about Ascentis HR (formerly HROffice®) and Ascentis Payroll (formerly EBS On Line's InstaPay), visit Ascentis.
Ascentis media contact: Dianna Sovine | 800.229.2713 x170
This press release was distributed through eMediawire by Human Resources Marketer (HR Marketer: http://www.HRmarketer.com) on behalf of the company listed above.
###