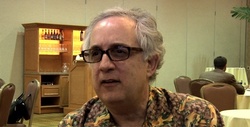 Virtual worlds are going to be a major disruptive element for mainstream society
San Francisco, CA (PRWEB) April 21, 2009
Mitch Kapor, investor and software pioneer, says that virtual-world technology made popular by the gaming industry will enter the mainstream as a platform for businesses. Its ability to facilitate face-to-face interaction will enable corporations to conduct meetings and conferences from remote geographic locations in a way that far exceeds the capabilities of video-conferencing.
A video interview with Kapor discussing virtual-world technology and its business implications is featured on IdeasProject, a website developed by Nokia. IdeasProject is an online "information space" that provides a new way to interact with thought leaders and their big ideas about the future of connected communications. For more on Kapor's big idea, visit: http://www.ideasproject.com/idea_person.webui?id=2906 .
"Virtual worlds are going to be a major disruptive element for mainstream society," said Kapor. "The idea is that you might interact with other people in a manner that is virtually, face-to-face. Each person could be anywhere in the world but they interface with their avatars in a shared virtual world; it would feel like being in a physical room full of people."
"Virtual-world technology is still in its infancy," said Valerie Buckingham, director of technology marketing, Nokia. "Many early-stage platforms are already being used by businesses for virtual meetings. This technology should only evolve further. IdeasProject is about exploring the cutting-edge developments of today's technology and its impact on human communications and we're honored that our charter contributors like Kapor, share their wealth of knowledge, and enrich the pool of big ideas."
Over the next three months, editors from the IdeasProject are featuring their favorite ideas as submitted by the public and sending a Nokia N95 to the 'Big Thinker' who contributed. Share and submit your 'Big Idea' with the world by visiting http://master.ideasproject.com/userideasubmit.webui.
About Mitch Kapor:
Personal computing pioneer Mitchell Kapor has been at the forefront of information technology as an entrepreneur, software designer, activist, and investor for 30 years. Widely recognized as the founder of Lotus Development Corporation and designer of Lotus 1-2-3, the 'killer application' which made the personal computer ubiquitous in the business world in the 1980s, Mr. Kapor has gone on to play a crucial role in evolving responsible and intelligent use of technology as a founder or investor of such organizations as The Electronic Frontier Foundation, which protects freedom and privacy on the Internet; Real Networks, which pioneered the use of streaming media over the Internet; the Mozilla Foundation, maker of the open source web browser Firefox; and Linden Research, the creator of the first successful open virtual world, Second Life. Mr. Kapor was born in Brooklyn, New York, in 1950 and received a B.A. from Yale College in psychology, linguistics, and computer science as part of an interdisciplinary major in Cybernetics.
About IdeasProject:
IdeasProject, a project of Nokia hosted at http://www.ideasproject.com, brings together the most visionary and influential "big thinkers" to contemplate the big ideas that matter most to the future of communications. It is a new kind of conversation platform aimed at uncovering the connections between these thought leaders and their disruptive ideas. Explore the IdeasProject website, subscribe to its RSS feed, join its Twitter feed (IdeasProject), and come back often to learn about great new big ideas as they break.
About Nokia:
Nokia is the world leader in mobility, driving the transformation and growth of the converging Internet and communications industries. We make a wide range of mobile devices with services and software that enable people to experience music, navigation, video, television, imaging, games, business mobility and more. Developing and growing our offering of consumer Internet services, as well as our enterprise solutions and software, is a key area of focus. We also provide equipment, solutions and services for communications networks through Nokia Siemens Networks.
###