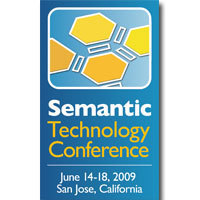 Culver City, CA (PRWEB) April 21, 2009
Semantic Universe has announced the program and opened registration for SemTech 2009, the fifth annual Semantic Technology Conference, taking place 14-18 June 2009 at the Fairmont Hotel in San Jose, California. SemTech is the world's largest forum on real-world commercial, strategic, and future applications of semantic technologies, giving attendees an unparalleled opportunity to connect with the industry's brightest minds from across the globe. Early registration savings end 8 May 2009.
Presented by co-chairs Tony Shaw and Dave McComb, the program for the five-day event is the most extensive ever assembled, featuring presentations by forward-thinking leaders and industry influencers, addressing virtually the entire spectrum of business, government, and consumer activity taking place within the field of semantic technologies. SemTech offers an unparalleled opportunity for learning, networking, product exposure and industry-shaping dialogue by bringing together users, content providers, developers, specialists, innovators, and entrepreneurs targeting comprehensive, real-world business solutions using semantic technologies.
Since its debut ten years ago, the Semantic Web and supporting technologies have evolved significantly to power enterprise-grade, mission-critical applications that range from military intelligence to medical records management. In addition, many of today's semantics-based initiatives form the backbone of next-generation innovations as diverse as search and data mining, advertising and publishing, finance, mobile devices, intellectual property, and multimedia. These foundation-level developments are driving future applications such as Service Oriented Architectures, social networking, Web 3.0, and Web Services solutions, playing a key role in new business models and start ups, and presenting new venture capital opportunities in software development.
The Premier Platform for Information Exchange
More than 1,000 technologists, researchers, marketers, executives, academics, entrepreneurs, and evangelists from organizations of all sizes are expected to attend SemTech 2009. A broad range of sessions across the full spectrum of semantic technologies are available for attendees at all levels, from the novice to the power user.
SemTech 2009's more than 220 hours of technical and business-oriented presentations at the beginner, intermediate, and advanced levels include topic areas such as: Business/Marketplace; Collaboration and Social Networks; Data Integration and Mashups; Application Development; Foundational Topics; Government/Military; Finance; Health Care/Life Sciences/Pharmaceutical; Knowledge Engineering and Enterprise Information Management; Linked Data; Publishing; Advertising/Marketing; Semantic Web and Web 3.0; Semantic Rules; Query/Search; Service Oriented Architectures; Ontologies; Taxonomies; and Unstructured Information.
Several user communities will convene again this year at SemTech 2009: TopBraid Suite Open User Group Meeting, SDForum Semantic Web SIG, Jena Community of Practice, 2nd Annual Government Intel Sidebar, and the US Federal Government Community of Practice. In addition, the conference offers attendees the opportunity to participate in numerous Product Seminars and Field Trips, as well as the Semantic Code Camp, presented by Palo Alto Semantic Web Meetup Group.
First-Hand Expertise, From A -Z
SemTech features inspiring keynotes by renowned luminaries that include:

Bringing Intelligence to the Interface -- Tom Gruber (Siri; formerly Stealth Company);
Insights and Impressions From Calais' First Year -- Thomas Tague (Calais powered by Thomson Reuters)
Executive Roundtable on Semantic Search -- Carla Thompson (Guidewire Group), with Riza Berkan (Hakia); Tomasz Imielinski (Ask.com); Peter Norvig (Google); Scott Prevost (Microsoft Live Search/Powerset); Andrew Tomkins (Yahoo! Search); and William Tunstall-Pedoe (TrueKnowledge); and
Semantics at The New York Times -- Rob Larson and Evan Sandhaus (NYTimes.com)
Key semantics issues are addressed by speakers from globally-leading organizations such as: Accenture Technology Labs; Adobe Systems; BBN Technologies; The Boeing Company; Booz Allen Hamilton; Cleveland Clinic; Creative Commons; DataPortability Project/Dow Jones; Decision Management Solutions; Digital Enterprise Research Institute/National University of Ireland, Galway; Food and Agriculture Organization of the United Nations; Getty Research Institute; Hewlett-Packard; IBM Rational; Lockheed Martin Aeronautics/Corporate Advanced Concepts; Los Alamos National Laboratory; Merck and Co.; Metatomix; Metaweb Technologies; The MITRE Corporation; Norwegian Defence Research Establishment; Oracle Corporation; O'Reilly Media; Oxford University; Procter & Gamble; Raytheon; Razorfish; Rensselaer Polytechnic Institute; Sabre Holdings; SAP Labs; Stanford University; STI International; Time, Inc.; Travelocity; U.S. Department of State; Unilever Centre for Molecular Science Informatics; Unisys Corporation--Systems & Technology; University of Cambridge; University of Southampton; U.S. Environmental Protection Agency; Vulcan; The World Wide Web Consortium; XBRL International; and Yahoo! Research.
The Semantics Industry Hub
SemTech is the forum of choice for new company launches, products/services debuts, and industry initiatives introductions; more than 40 industry announcements, including product launches, publishing deals, and venture capital investments were made at last year's conference.
SemTech sponsors, leading vendors, and developers will demonstrate dozens of innovations at the SemTech Expo Hall. They include:

Platinum -- Metatomix, Oracle, and STI International;
Gold -- Calais powered by Thomson Reuters, Collibra, Franz, Ontotext, TopQuadrant, and Zepheira;
Silver -- BBN Technologies, Ontos, Saltlux, SemanticV, TextWise, and Yahoo!;
Exhibiting Sponsors -- Cycorp, Expert System, and KBSI
Additional sponsor and exhibitor opportunities are available; contact Steve Bastasini on +1 415 740 5528 or steve (at) semanticuniverse (dot) com for a prospectus.
SemTech Media Partners include KMWorld, Mashable, and ReadWriteWeb; to become a media partner, or to pre-register credentialed members of the press and analyst community, contact Sally Khudairi on +1 617 921 8656 or sk (at) haloworldwide (dot) com.
Follow SemTech! The latest program updates, special events, and industry announcements are available on the conference site, along with topically-specific posts on Twine, LinkedIn, and Twitter. For more information and to register for SemTech 2009, visit the Semantic Technology Conference Website.
About SemTech
Now in its fifth year, SemTech is the world's largest conference on semantic technologies. SemTech is the only event focused on the commercialization of semantic technologies, bringing the most recognized names, knowledge, leadership, and innovation in the semantic community together at one location. SemTech is owned and operated by Semantic Universe--the semantic industry's trusted information resource. Semantic Universe is a joint venture between Wilshire Conferences and Semantic Arts, whose portfolio of services and events are the industry standard for education and professional development. They include Enterprise Data World, the international Data Governance series, Designing and Building Business Ontologies, Enterprise Information Management Conference, and Information and Data Quality Conference, as well as the Data Strategy Best Practices Council and Data Strategy Journal. For more information, visit SemanticUniverse.com.
###