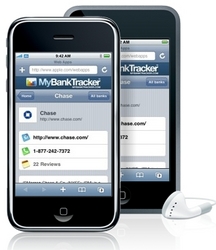 Imagine you are negotiating a new mortgage or opening a new account and are being quoted rates, service fees or minimum deposit levels but you are unsure if you are receiving the best the industry offers; take a minute, load the My Bank Tracker web app and see what other banks are offering. Being informed becomes your competitive advantage
New York, NY (PRWEB) April 21, 2009
My Bank Tracker, the premier interactive banking and information website, announces the launch of the My Bank Tracker web app; a new application for iPhone and iPod touch that offers user's access to over 1000 financial products across 150 national banks and is now available on any iPhone and iPod touch Safari browser.
The launch of the My Bank Tracker web app represents the latest in a series of innovative features and tools designed to inform, educate, and enable consumers to make critical banking and credit decisions. The My Bank Tracker web app brings a level of wireless sophistication that empowers the consumer as they try to navigate through the current volatile economic environment.
"Imagine you are negotiating a new mortgage or opening a new account and are being quoted rates, service fees or minimum deposit levels but you are unsure if you are receiving the best the industry offers; take a minute, load the My Bank Tracker web app and see what other banks are offering. Being informed becomes your competitive advantage," explains Alex Matjanec, who handles Media and Communications for My Bank Tracker. "This mobile friendly iPhone/iPod version of the site, offers top rates across CDs, Savings, Mortgages, and Checking. Users can also search for more information on every bank we currently track to get a snapshot of their current rates*, user ratings as well as the customer service number and website information."
Main features of the My Bank Tracker web app include:

Over 500 products across the CD, Savings, Checking and Mortgage vertical that are dynamically updated and categorized for each bank
Users can review specific bank information, contact info, user reviews and products
Instant click through to bank web sites for each product
You can try it out by typing http://www.mybanktracker.com into the iPhone Safari browser or by visiting Apple's Web App Store at http://www.apple.com/webapps/productivity/mybanktracker.html
About My Bank Tracker:
My Bank Tracker provides users the ability to compare bank rates for credit cards, savings, checking, mortgage and certificate of deposits (CD) accounts; presents current and relevant articles on the industry and offers tools and widgets to locate a bank, and to compare and calculate interest rates. By visiting http://www.mybanktracker.com, our users can make informed financial and banking decisions based on the shared experience of our social network membership.
*Financial Institutions may change rates without prior notice and consumers should contact the institution directly to verify rates in real time.
###