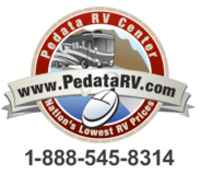 An RV vacation provides freedom
(Vocus) April 21, 2009
Family vacationing by motorhome remains the most cost effective way to explore the US and will continue to be for some time to come. A family of four can expect to save anywhere from 27 - 61% of travel expenses vacationing by RV, reports PKF Consulting, an international consulting firm with expertise in travel and tourism. With the majority of Americans looking to cut spending on their next vacation, RVing becomes an appealing alternative.
A study of fuel costs found that at a rate of $3.63/gallon, gas prices would have to double in order to make RVing more expensive than other methods of travel transportation. Applied to lightweight travel trailers and campers, gas costs would need to triple before they surpassed flying expenses. With more than 16,000 campgrounds across the country, RV owners can increase savings by staying at areas close to home.
"Last years high gas prices had an impact on RV sales and it was because many people didn't have a grasp on what RV travel means. These statistics can help reset the way people think about RV travel costs. Even with high gas prices, RVing is still a more affordable way to go when compared with a typical vacation using cars, planes, hotels, etc," says Clint Ethington of Pedata RV Center.
On a three day trip, traveling by RV creates an average savings of $1,112.00 as compared with flying and staying in a hotel, according to PKF Consulting. Towing a trailer behind an SUV increases savings to $1,219.00. For a fourteen day trip the difference between air travel and RV travel is $3,250.00.
8.2 million American households currently own RVs, so when they're looking for a budget substitute for $122.00/night hotel rooms, a $33.00/night campground becomes a viable solution.
"An RV vacation provides freedom," says Ethington. "You are free from the expense and constraints that other forms of travel impose."
For More Information:
For more information on Pedata RV Center or current trends in the RV industry contact Clint Ethington, General Manager, at clint (at) pedatarvcenter (dot) com or by phone at: 1-888-545-8314 or 520-807-0900. Or visit Pedata RV Center online at http://www.pedatarvcenter.com .
Contact:
Clint Ethington
Pedata RV Center
http://www.PedataRV.com
Phone: 1-888-545-8314 or 520-807-0900
###