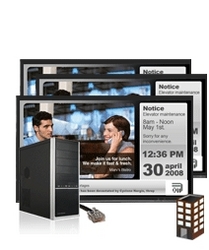 We wanted to be able to utilize a dynamic screen in key locations within the mall.
(PRWEB) April 23, 2009
Dyne Holdings Ltd., operators of The Shops of Confederation Court Mall, today announced the successful completion of a pilot project that uses ScreenScape to create Confederation Court Mall TV - a coordinated network of digital displays featuring content authored and brokered by Mall operators.
"We wanted to be able to utilize a dynamic screen in key locations within the mall." says Marketing Coordinator Karen Wortman. "ScreenScape made it possible by offering an Internet-based solution that makes managing content easy. Now we can offer a new and unique marketing service to our merchants and a public service to the community".
ScreenScape (http://screenscape.net) is an Internet Service and community that offers a smarter, simpler and more cost-effective way to use dynamic screens in your venue. The service has been described by pundits as Web 2.0 digital signage as it combines professional display authoring tools with the content sharing principles and techniques of social media.
The pilot project began at Christmas 2008 and extended through March of 2009. During the pilot mall displays featured products and services offered by vendors within the mall and promoted events around the community.
"We're proud to have Dyne Holdings and Confederation Court Mall as ScreenScape customers and they demonstrate the powerful marketing benefits of our service admirably", says ScreenScape President and CEO Kevin Dwyer. "It is rewarding for us to see the power of content sharing in action and the service being put to good use to promote business and community events."
About the Confederation Court Mall
The Shops of Confederation Court Mall in downtown Charlottetown offer the region's most unique shopping experience. With over 80 shops and services, you're sure to discover the perfect gift for everyone on your list.
About ScreenScape
ScreenScape offers an online service that makes it easy for anyone to create and operate a dynamic screen display in their venue. ScreenScape uses Internetworking principles and social media techniques to build collaborative marketing networks. Compared to traditional Digital Signage and Digital Out-of-Home (DOOH) advertising technologeis these networks of interlinking screen displays offer new opportunities for collaboration and commerce and at dramatically reduced costs.
###