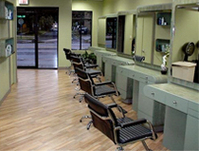 To date, we have donated approximately 120 pounds of hair, and we are preparing to send 40 pounds more
Tampa, FL (PRWEB) April 22, 2009
Hair stylists at Tribeca ColorSalon help the environment with every snip of their scissors. Inside this sustainability-focused salon, hair clippings serve a continued purpose. The forward-thinking company ships all cut hair to Matter of Trust, an organization which manufactures the material into mats used to absorb petroleum spills.
"To date, we have donated approximately 120 pounds of hair, and we are preparing to send 40 pounds more," says Brandon Wagner, Tribeca ColorSalon's creative director.
The partnership with Matter of Trust is just one example of the Tribeca commitment to the environment. Tribeca staff adds to the hair snipping stockpile while surrounded by environmentally-friendly measures like tinted, energy-efficient windows from Solar Guard. A ductless AC unit keeps patrons cool and operates using "green" refrigerant. Organic cleansers keep stations spotless.
Sulfate-free shampoos are the preferred means of cleansing. Plastic tubes that once contained coloring agents are recycled. Dry erase boards are used in lieu of individual client tickets in order to eliminate paper waste. There is even a bike rack set up outside for staff and clients who eschew gas-powered transportation. Construction on a second eco friendly hair salon in Centro Ybor is set to begin in May, and each step of the building process will be done with sustainability in mind.
"We continue to expand our focus both on high style and sustainability," says Wagner. "Our aim is to make our clients and our Earth beautiful."
Throughout their Earth-friendly routines, Tribeca ColorSalon staff maintains a niche focus on improving the aesthetic quality of each client's hair and facial appearance. The salon menu features extensive cut and style services that include Tampa wedding updos and specialized treatments such as the Z-One Milkshake Constructor.
For more information regarding Tribeca ColorSalon's earth-friendly measures, or to learn about the establishment's extensive services, visit http://www.tribecasalon.com. Information regarding Matter of Trust can be derived from http://www.matteroftrust.org.
Tribeca ColorSalon is an eclectic South Tampa salon where color and cut specialists work together to create the best look for each client. The salon features a lounge, fresh coffee, wireless internet and a friendly support staff. Tribeca is open Monday from 12 pm-9 pm; Tuesday-Friday from 10 am-9 pm, Saturday from 9:30 am-5 pm and is closed on Sunday. Walk-ins are welcome, but appointments are preferred. For more information about Tribeca ColorSalon services, log on to http://www.tribecasalon.com or call (813) 250-0208.
###