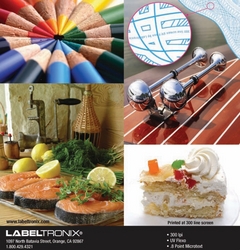 The quality of this year's entries was by far the best since we started this competition. Judges' scores were off the charts, compared to the previous four years
Orange, Calif. (PRWEB) April 23, 2009
Labels sell products. Now, one of Labeltronix' own promotional labels convinced judges for the Printing Industries Association of Southern California (PIASC) that the company has top-notch flexographic capabilities with its HD Flexo Labels.
On April 14, Labeltronix accepted "Best in Category" for Flexographic Printing from the PIASC for a label that was printed on high-gloss paper with a gloss UV varnish. The label was printed using HD Flexo, which is "offset quality"--the printing industry's gold standard. Attaining 300-line screen printing on a UV Flexo press has never before been accomplished--until now!
The winning label shows off several ways HD Flexo maximizes high-end color in images. It depicts a group of color pencils, scrumptious-looking food, and the sleek look of horns on the bow of a boat.
HD Flexo Labels are produced using "high-definition flexo" color printing, and it produces photo-quality labels. The color on these stunning labels has a "real-life" look.
This is the fifth year that PIASC has held its Print Excellence Awards, but only the first year that Labeltronix competed. Labeltronix' winning entry will be submitted automatically to a global competition for the industry--the International Premier Awards.
"We can always say 'We do a great job at flexographic printing.' But this is independent validation--from judges in our own industry--about the quality that we can achieve and always deliver to our customers," says Mark Gaw, Labeltronix' General Manager. "Now we have proof that we print our customers' labels at the highest quality available in the industry."
"The quality of this year's entries was by far the best since we started this competition. Judges' scores were off the charts, compared to the previous four years," says Frank Iannuzzi, PIASC's Vice President, Management Services. "Taking home this prize is a real honor for Labeltronix, especially as a first-time entrant in this contest!"
Until now, offset quality color was only attainable from high-cost, long-run, label printing manufacturers. Labeltronix announces it has broken the "quality color label barrier" with the introduction of its revolutionary HD Flexo label printing, which will be applied to all orders--automatically--at no extra cost.
One of the more surprising things about Labeltronix is that it does not bill clients any more for its HD Flexo printing. The decision not to add extra charges for the upgrade in quality is in keeping with the company's Lean Labeling® philosophy.
The technology that made HD Flexo label printing possible includes Labeltronix' state-of-the-art Flexo press, using award-winning printing techniques. This process allows Labeltronix to print labels with offset quality up to 300 line screen.
To find out more about Lean Labeling®, visit http://www.leanlabeling.com.
To find out more about HD Flexo label printing, visit http://www.labeltronix.com, or contact Jill Brofman,
(800) 429-4321, Ext. 137.
About Labeltronix
Since 1993, Labeltronix has delivered the promise of quality and reliability in every customer solution it creates for consumer product manufacturers of food, wine, nutritional supplements, cosmetics, automotive, and personal care products. Labeltronix is Southern California's leading provider of labels, labeling systems and supplies, service and technical support. It has become the single-source supplier for all of its customers - its labeling experts don't simply follow the trends; they set them.
###