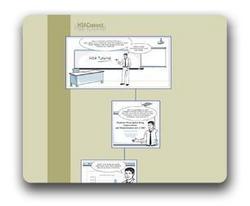 HSAConnect continues to be at the forefront of educating consumers on the benefits of Health Savings Accounts. The comic strip tutorial explains all of the key aspects of Health Savings Accounts in a simple and understandable way
Ojai, CA (PRWEB) April 22, 2009
HSAConnect, an online resource for information and services relating to Health Savings Accounts (HSAs), makes learning about HSAs quick and easy with the release of the HSA Tutorial, an online comic strip about Health Savings Accounts.
In just twelve frames, the tutorial provides a brief history of Health Savings Accounts; illustrates the advantages of HSAs, and defines HSA-qualified health insurance plans, also known as High Deductible Health Plans.
A virtual classroom complete with instructor, white board and projector is the academic setting for the tutorial, displayed in the infinite canvas format, where the entire comic strip can be scrolled through on a single page.
"HSAConnect continues to be at the forefront of educating consumers on the benefits of Health Savings Accounts. The comic strip tutorial explains all of the key aspects of Health Savings Accounts in a simple and understandable way,"
-David McAtee, founder of HSAConnect.
HSAConnect proves to be a leader in Health Savings Account resources and HSA insurance quotes, while delivering the most accurate information supported by the newest in online technology. Through their website at HSAConnect.com, they provide consumers, businesses and financial advisors with everything they need to understand Health Savings Accounts and HSA-qualified, high deductible health plans.
# # #