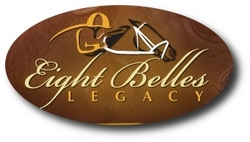 Long Island, NY (PRWEB) April 29, 2009
Today, announcing the official launch of http://www.eightbelleslegacy.net a racing industry based forum called "The Inside Track", in place for the industry, equine fans and professionals alike that will serve as a Lasting Tribute to Eight Belles, a beautiful steel grey Thoroughbred filly racehorse owned by Rick Porter's Fox Hill Farm and trained by Larry Jones.
Eight Belles was euthanized on the track just moments after running second only to winner Big Brown in the prestigious 2008 134th Kentucky Derby held at Churchill Downs last year, she was only the thirty ninth filly in history to make a Run for the Roses in the Derby proving she could run with the best of the boys.
http://www.eightbelleslegacy.net is a new Thoroughbred Racing Industry Forum that offers thoroughbred horse racing fans and professionals alike an inside look, as well as an opportunity to express your views, concerns, suggestions, questions, knowledge, experience and expertise on all the present equine related issues. "The Inside Track", is a supportive community forum full of inside expert opinion to help serve as a basis and guide to the pending regulation changes that are needed in order to aspire to modernized methods, superior equine health, and overall Thoroughbred safety standards.
Eight Belles Legacy would like to establish the creation of a database, a resourceful guide to enhance Thoroughbred health and durability collaboratively empowered by the equine expertise within the Industry itself from around the world. "The Inside Track", public forums will serve the equine community to contribute, share, and publish information while fostering the growth of the Thoroughbred Horse Racing Industry by enabling the racing industry to review and discuss improvable methods and exchange information that is essential to accumulate as regulations are changed and re-structured. More importantly, this new industry forum serves to collect the critical information to research the issues through a broad spectrum of knowledge to help empower and support, ultimately one central governing body with one set of rules for all to abide by. The United States by all means available can nationally recognize, unite, and adopt one uniform set of safety rules for our Thoroughbreds and jockey athletes with new policies and procedures put into place through your collective and resourceful recommendations.
If the industry can harness the issues with related priceless experience and provide a stable full of solutions, Eight Belles Legacy will serve as the guide for the racing industry to first review itself through this resource to improve the health, safety and overall welfare of all racehorses.
As we approach the 2009 135th Kentucky Derby we will all affectionately remember Eight Belles and the impact on the sport she was destined to leave, along with her moving us to embrace positive change and the overall future improvements of the Racing Industry as a whole. This is Eight Belles Legacy.
Welcome!
Show your support and have your say,
Visit The Inside Track Equestrian Center today at
http://www.eightbelleslegacy.net
###