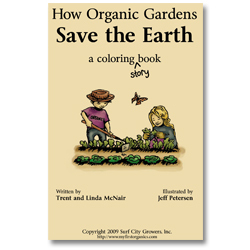 We took our cue from the First Lady, Michelle Obama, when she broke ground last month at the White House with its first sustainable, organic garden in decades
Aptos, CA (PRWEB) April 23, 2009
Surf City Growers today published an e-coloring book, How Organic Gardens Save the Earth, available as a free PDF download from their website, http://www.surfcitygrowers.com.
The story is about Reed, who buys his tomatoes from the supermarket, and Posey, who grows her own in the backyard. The tale tells how each tomato was grown, the journey it took to get to them, and what the Earth thinks about it all. It also talks about how special it is to share a harvest.
"We took our cue from the First Lady, Michelle Obama, when she broke ground last month at the White House with its first sustainable, organic garden in decades," said Linda McNair, president, Surf City Growers, Inc. "She said 'that through children, they will begin to educate their families and that will, in turn, begin to educate our communities.' We couldn't agree more and this is our way of contributing to that movement."
Written by the founders of Surf City Growers - Trent and Linda McNair -- and illustrated by Jeff Peterson, How Organic Gardens Save the Earth is an educational story book for children of elementary school age. The learning is internalized when the child spends time coloring the book. It's also a perfect primer for parents who don't know the difference between conventional and organic produce.
"Busy parents don't have time to learn about the importance of organic produce for the health of themselves, their families and the Earth." said Trent McNair, vice president of operations. "This e-Book provides free education and a fun activity for everyone."
About Surf City Growers
Trent and Linda McNair are the founders of Surf City Growers, Inc., a small organic nursery located in Aptos, California, and the makers of My First Organics seed starting kits. They have 2 kids, 2 dogs, 2 cats, and some chickens. They left their full-time jobs in high tech to help families and schools eat healthier, support local organic farming and do their part in saving the planet. For more information, visit http://www.surfcitygrowers.com or check out their blog at http://www.myfirstorganics.com/ecofare.
Contact: Linda McNair, Surf City Growers, 831.688.1088, linda@surfcitygrowers.com
More news and downloadable images can be found at http://www.surfcitygrowers.com/inthenews.php
###