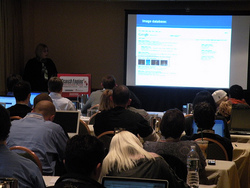 We've had a wonderful response to our in-depth training workshops and expect the same with this one in Atlanta
Atlanta, GA (PRWEB) April 22, 2009
On May 5, 2009, Search Engine Strategies (SES) will hold four search engine marketing (SEM) training workshops at the Omni Hotel CNN Center in Atlanta, GA. These hands-on workshops are being led by SEM professionals who are specialists in each of the topics, including search engine optimization (SEO) and pay per click (PPC) advertising.
Attendees can choose one workshop or participate in one workshop in the morning and one in the afternoon. The fee for two workshops is $1,345, and the fee for one workshop is $745. For complete workshop details and registration information, visit http://www.searchenginestrategies.com/training/atlanta/
"We've had a wonderful response to our in-depth training workshops and expect the same with this one in Atlanta," said Matt McGowan, Vice President and Publisher at Incisive Media. "Busy in-house professionals and agency people love the informal small-class settings and one-on-one attention. If I had to use one word to describe these workshops, I would say 'practical.' They really focus on improving skills that effect business results."
The two morning workshops, which are being held from 8 a.m. to 12 p.m., include:
"Search Engine Optimization (SEO) Workshop" demonstrates, using the conditions outlined by the popular search engines, how to build a user-friendly, search-friendly and persuasive website that converts visitors into buyers. The instructor: Shari Thurow, founder and SEO director of Omni Marketing Interactive, is a pioneer in the area of search-engine friendly website design and has a 100% success rate for achieving top search engine rankings for her clients.
"Link Building Tactics, Tools & Techniques" demonstrates how to better understand and manage link building campaigns by providing information about proven, practical and creative link marketing campaigns. The instructor: Debra Mastaler, president of Alliance-Link, a speaker at industry events and a guest columnist for industry publications, offers a common sense approach to link building by combining traditional sales and promotional strategies with effective online search engine marketing tactics.
The two afternoon workshops, which are being held from 1 p.m. to 5 p.m., include:
"Advanced Keyword Research" explores, via theory and real world examples, the tools available for identifying, researching and zeroing in on the right keywords for an SEO or PPC campaign. The instructor: Ron Jones, an Internet marketing consultant, trainer and owner of Symetri Internet Marketing, provides strategic consulting and Internet marketing solutions to a variety of companies.
"How to Effectively Use Social Media for Search Marketing Campaigns" reviews the entire realm of social media environments and how to use them effectively as part of a holistic marketing campaign. The instructor: Liana "Li" Evans, the director of Internet marketing at KeyRelevance, is well-versed in all avenues of search marketing, with a particular focus on natural search optimization, vertical search, social media and word-of-mouth marketing.
For complete workshop details and registration information, visit http://www.searchenginestrategies.com/training/atlanta/
About SES
Incisive Media's Search Engine Strategies is a leading global conference and training series focused on search engine optimization and search engine marketing. Other Incisive resources for interactive marketers include Search Engine Watch, which provides news and information about search, analysis of the search engine industry and tools for improving search marketing effectiveness, and ClickZ, which provides digital marketing news, information, commentary, advice, opinion and research.
Incisive Media is a leading global provider of specialized business news and information, in print, in person and online. The company's principal markets include financial services, legal services, commercial real estate, marketing services and risk management. Incisive Media's market-leading brands include Accountancy Age, Computing, Investment Week, Legal Week, LegalTech, Post, Real Estate Forum, Risk, Search Engine Strategies and The American Lawyer.
###