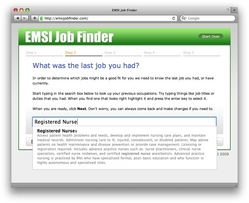 Combining regional labor market information, skills matching, current job openings, and training programs into one job search tool is a unique approach. We believe that bringing this regional economic perspective will add a lot of value and help jobseekers balance short- and long-term approaches to finding the right career
Moscow, ID (PRWEB) April 22, 2009
Economic Modeling Specialists Inc. (EMSI) is pleased to announce the release of Job Finder, a web-based self-service tool that helps displaced workers and other jobseekers explore local job opportunities based on a jobseeker's experience, education, skills, and interests.
"The goal of Job Finder is straightforward," said Rob Sentz, Marketing Director at EMSI. "It helps jobseekers identify local career opportunities that fit with their goals and skills, and provides them with information they can use to become better qualified for those careers."
Job Finder combines the power of EMSI's regional labor market analysis with real-time job postings and occupational compatibility analysis, so jobseekers can produce quick, detailed results on the best-available jobs. The tool also factors in local training programs, so jobseekers can analyze their skills gaps for in-demand positions and see which educational institutions offer training.
Job Finder is ideal for career centers, one-stops, workforce boards, community colleges, universities, or anywhere that jobseekers could be looking for local jobs. Since it is designed for self-service, jobseekers can find jobs faster while career center staff can serve all their customers more efficiently. Career centers can also track Job Finder's statistics to know how many individuals they are helping, how many customized reports have been generated, and what job types are most searched for.
To use the web-based tool, jobseekers simply type in their previous occupation, desired wage, and maximum commute distance. It then focuses their search on occupations with compatible skills, comparable wages, and (very importantly) a good local hiring outlook. Finally, they can view real-time job listings and generate an individualized report to take home with them.
"Combining regional labor market information, skills matching, current job openings, and training programs into one job search tool is a unique approach. We believe that bringing this regional economic perspective will add a lot of value and help jobseekers balance short- and long-term approaches to finding the right career," concluded Sentz.
ABOUT EMSI
Job Finder is the latest development of EMSI, a global data services and economics firm that works with thousands of workforce, economic development, and education professionals. For more on Job Finder or to schedule a demonstration, contact EMSI.
###