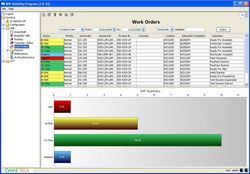 the industry's first automated real-time supplier visibility application network.
Santa Clara, CA (PRWEB) April 22, 2009
Omnitrol Networks has announced the immediate availability of OMNITROL Supplier Visibility (OSV™), which the company calls "the industry's first automated real-time supplier visibility application network."
OMNITROL Supplier Visibility extends the company's industry-leading real-time operational and WIP visibility solution for manufacturers with real-time visibility on their orders directly from their suppliers' shop floors. The OMNITROL Supplier Visibility network is enabling the industry's first collaborative shop-floor to shop-floor supply chain based on real-time data from RFID and Wi-Fi sensors. OSV integrates seamlessly with Omnitrol Networks' work-in-process (WIP) and global track-and-trace (GTT) solutions, providing complete supply-chain visibility.
"We are pleased to offer our existing and new customers automated and real-time information exchange between shop-floors of partners," says Omnitrol Networks VP of Marketing David Orain. "Shop floors are where the work is done and where true collaborative enterprise value will be created. We believe manufacturers will start moving their IT spendings to the shop floor, to enable a much higher return in business value and business optimization opportunities."
Because a supplier shop-floor sends real-time automatic updates of order status through OSV, a manufacturer can check that status at any time without contacting the supplier directly. The OMNITROL application network automatically collects work-in-process data and provides the plant floor and manufacturing personnel with real-time dashboards and reports comparing actual to plan, providing immediate analysis of estimated time to complete production. As a result, suppliers can increase throughput, improve on-time delivery, reduce cycle times and minimize idle times.
Orain observes that in the current business climate, users require lower-cost, near-term results, "And without the complexity of drawn-out ERP enhancement." OMNITROL SV includes such turnkey features as end-to-end manufacturing visibility across the supply chain, automatic traceability and demand analysis. OMNITROL SV, WIP and GTT solutions reside on the Omnitrol Services Network, which improves operational efficiencies and provides a simplified integration layer between automated data-capture devices and an ERP backbone such SAP or Oracle.
This powerful model won the Frost & Sullivan 2009 North American Award for Excellence in Product Value of the Year Award; Frost & Sullivan credited Omnitrol Networks with lowering users' technology spending; offering cost-efficient, real-time visibility and traceability; and improving operational excellence. "The result is the perfect order of on-time and as-requested fulfillment," says Orain.
About Omnitrol Networks
Omnitrol Networks Inc. is a leading provider of complete EPC-based business application solutions for the emerging wireless, RFID and sensor automation market. The company's award-winning OMNITROL appliance and Edge Application and Services Engine (EASE™) software have pioneered the market for "Always On" real-time operational visibility, traceability and automation solutions. The OMNITROL's unique edge-centric solution architecture enables the industry's most flexible and reliable means to deploy scalable Auto-ID application intelligent networks at the lowest total cost of ownership in the market. Omnitrol Networks Inc. is a privately held company with corporate headquarters in Santa Clara, California, USA. Additional information about Omnitrol Networks' products and services are available at http://www.omnitrol.com.
###