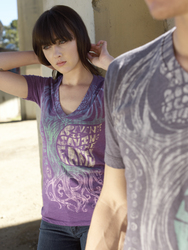 Revenge Is…Saving the Earth
Los Angeles, CA (Vocus) April 22, 2009
Revenge is…saving the earth, and Los Angeles-based apparel company Revenge Is…® is doing its part to celebrate and promote Earth Day awareness with its new line of RPET/organic cotton blend T-shirts. The "Revenge Is…Saving the Earth" Ts for men and women are the first in their new line with edgier, artistic designs, cuts and colors. Created to expand the reach and appeal of this leading-edge green apparel company, these new pieces designed by Oregon based artist and environmentalist Justine Verigin integrate the company's activism-inspiring messages with a fresh aesthetic and one of the most sustainable yet cashmere-soft new fabrics made from recycled water bottles (RPET).
In keeping with the dual mission of Revenge Is… to inspire both green practices and social activism, these new t-shirts ($32) are a huge leap forward in sustainable fashion. Offered in a deep v-neck eggplant heather for women (sizes S – L) and a v-neck steel gray for men (sizes S – XL), the light and flexible fabric is the backdrop for the colorful discharge printed message "Revenge Is…Saving the Earth." Made from a silky-soft blend of 50% organic cotton and 50% RPET, Revenge Is… Ts are produced locally in Southern California through an environmentally responsible process right down to the water-based inks and recycled shipping materials.
Also available is a new children's T ($21) encouraging an eco-friendly lifestyle with the phrase "Think Green" in an adorable, earthy design. Also using the organic cotton/RPET blend, the white t-shirt sized for toddlers through tweens (even sizes T2 – 12 Youth) is printed with PVC/heavy metal free water-based inks.
Revenge Is… recently launched its new website featuring timely activism inspiring information from founder and writer Marilyn Barrett. Also find affordable new pricing on its reusable products and RPET/organic cotton classic Ts in black or heather gray. The original t-shirt line offers provocative slogans stating Revenge Is…Taking Back Our Country, …Energy Independence and …Main Street at Work ($28). The company also offers blank t-shirts for men and women made from their unique fabric ($26). Blanks are available for wholesale to other environmentally responsible apparel companies.
Revenge Is... donates 10% of its profits to a variety of charities that are selected, in part, by its growing community of activists and newsletter subscribers. For more information about the company's products and mission, visit http://www.revengeis.com. Press inquiries contact revengis@launchpadpr.com.
About Revenge Is…
Embracing the adage "the best revenge is living well," the decision to launch Revenge Is… in October 2008 was an easy one for Founder Marilyn Barrett, a life-long social activist who has put her money where her mouth is for well over 20 years in Los Angeles. Dedicating money, time and professional expertise as a corporate attorney to dozens of Los Angeles charitable organizations like the Saban Free Clinic, Marilyn has been honored for her extraordinary commitment to improving the lives of less fortunate women, children and families in her community. Her goal with Revenge Is… is to create and introduce products that not only solve fundamental sustainability problems but that also serve to inspire society as a whole to help one another. "The best thing about taking this path is the feeling that you are making a difference while inspiring others to do the same," Barrett says. Based on the response thus far, it is clear that Barrett is well on her way to her goal of "Making Activism Fashionable."
###