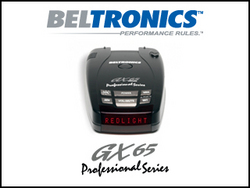 At these upcoming travel center shows, we will be demonstrating the best of our product lines and retail support
West Chester, OH (PRWEB) April 27, 2009
BELTRONICS, maker of the world's best performance radar and laser detectors, will be presenting products at two upcoming major travel center retail shows. Working directly with their retailer partners, BELTRONICS will be featuring the world's only true stealth radar and laser detector, the BELTRONICS STi Driver and, the all new GPS-enabled BELTRONICS Pro GX65 radar laser and safety camera detector at both shows.
First, BELTRONICS will present at the annual 'Travel Centers of America / Petro Managers' Show, April 29th in Sandusky, Ohio. A week later, BELTRONICS will feature the same top performing detectors at the 'DAS Travel Centers' Show May 6th-7th in Lancaster, Pennsylvania. "Like many other products conveniently available in national travel centers, we have made the BELTRONICS STi Driver available to people who travel regularly," said Don Rich, BELTRONICS Vice-President of Sales. "At these upcoming travel center shows, we will be demonstrating the best of our product lines and retail support," Rich added. "The new GX65 Pro Series radar detector is GPS powered, providing permanent relief from false alarms and a complete North American database of speed and red light cameras - this detector is new to both travel centers."
BELTRONICS, a long-standing partner with national travel center retail chains, will be a repeat presenter at both retail shows. BELTRONICS has a long history of supporting the travel center retailers with promotions, training and collateral marketing materials. For both upcoming shows, national sales managers and full product presentations will be available in the BELTRONICS booth - BELTRONICS is encouraging show attendees to stop by for new technology information and a chance to enter a drawing for a new BELTRONICS STi Driver radar and laser detector.
Both the BELTRONICS STi Driver and the GX65 radar and laser detectors can be seen at the shows or at BELTRONICS.com. Orders can be placed direct from BELTRONICS by calling 1.866.468.0322.
About BELTRONICS and ESCORT Inc.
BELTRONICS Inc. is a major brand under the ESCORT name who is the leading manufacturer of high-performance radar and laser detectors. BELTRONICS manufactures products under the STi DRIVER, BELTRONICS and Vector brands. The company is headquartered in West Chester, Ohio with its principal manufacturing facility located in Mississauga, Ontario, Canada.
Editorial Contact:
Ron Gividen
513.870.8500
###