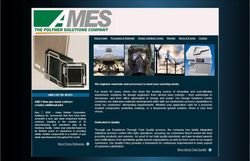 Boston, MA (PRWEB) April 23, 2009
Ames Corporation http://www.amescorporation.com, a leading manufacturer of high-quality Elastomeric molded components, dispensed gaskets and protective Coatings, announces the launch of the Company's new website. Ames has quietly reinvented itself as "The Polymer Solutions Company," and the new website capitalizes on the capabilities and solutions the Company provides to its customers that can be found in a wide variety of markets.
The new website features separate pages for Ames' three key processes and materials: Elastomeric moldings components, Elastomeric Coatings and Dispensed Gaskets, and contains separate pages for each of the Company's core market segments: Office Automation, Aerospace/Aircraft, Alternative Energy, Industrial/Automotive, and Respiratory Protective Devices. Detailed descriptions of applicable Ames' Coatings and Elastomeric moldings components products and technologies convey the message that Ames has the ability to craft solutions that fit customers' unique requirements.
In addition to showcasing Elastomeric moldings components, Elastomeric Coatings and Dispensed Gaskets along with containing pages for each core market, the website features a section known as the "Design Solutions Center." The Design Solutions Center section of the website walks a potential customer through the design concept process all the way to a completed solution, and includes customer success stories in a wide variety of markets. The page contains a link where potential customers can fill out an electronic form that will enable them to speak with an Ames expert about starting their next Elastomeric moldings components, Coatings, or any other project.
A 1993 winner of the prestigious Malcolm Baldridge National Quality Award, Ames' expertise in Polymer technologies has allowed the company to design innovative solutions for its customers. Ames' deep history of technology and quality are at the core of how the company does business and are an integral part of its processes, which incorporate Lean Manufacturing and Six Sigma practices. In 2009, Ames will celebrate 60 years of success as a leading supplier of Polymer products to international, high-tech customers and will invite the celebration with a new focus and initiative designed to allow the company to dominate its core markets, as well as tap into new industry segments.
About Ames:
For nearly 60 years Ames has been a leading supplier to international, high-tech customers who require Elastomeric molded components, Coatings, dispensed gaskets, insert molded components, and other Elastomeric products that meet high-quality standards. As one of the very few companies to win the Malcolm Baldridge National Quality Award for business excellence, Ames is ISO 9000-2000 registered, practices Six Sigma and Lean Manufacturing, and is well known for its exceptional attention to process and product quality. For additional information about Ames or the solutions they offer, please visit http://www.amescorporation.com, or call (973) 827-9101.
###