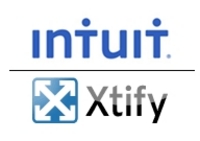 We're very excited to be working with Intuit to help small Web businesses innovate using their cloud infrastructure
New York, NY (PRWEB) April 23, 2009
Xtify and Intuit Inc. today announced the "Intuit/Xtify Application Contest" to showcase the potential of integrating location-based services into rich Internet applications built on Intuit's Platform as a Service, the Intuit Partner Platform.
To reward innovation in the use of location technology, Intuit and Xtify are offering up to $12,500 in prize money to the top location applications for two prizes: one determined by a panel of judges; and second based on user adoption of entrant applications.
To enter the contest, entrants must create and release a small-business-focused application built on the Intuit Partner Platform that leverages Xtify's location-enabling platform. The Xtify API allows Web applications to utilize location data tracked by a thin client running on BlackBerry®, Google Android, Windows® Mobile and Symbian OS™ smartphones.
Judges for the contest include:

Ed Zander - Recent CEO and Chairman of Motorola
Jeff Samberg - Managing Director of Acadia Woods Partners, LLC
Alex Chriss - Business Leader of Intuit Partner Platform, Intuit Inc.
Andrew Weinreich - CEO of Xtify, Inc.
"We're very excited to be working with Intuit to help small Web businesses innovate using their cloud infrastructure," said Weinreich. "Historically, individual developers and independent software vendors were required to invest in proprietary technology, including proprietary hardware to location-enable their services. These expensive implementations often precluded many companies from ever bringing their services to market. By making it easy for developers to build location-aware applications for small businesses, we expect massive innovation in new services from asset tracking to geo-targeted commerce."
Xtify derives location from the handset by extracting GPS and cell ID data, and then transmitting that data to Xtify's servers - thereby eliminating the need to request this information from wireless carriers. The Xtify API on the Intuit Partner Platform allows developers to query for a user's location at any time and receive latitude and longitude, a reverse geo-coded address and an accuracy metric.
"Our goal is to provide developers with the latest development capabilities that help them build powerful apps that solve small businesses' most critical problems," said Chriss. "Giving developers the ability to incorporate location data into business applications will greatly benefit small businesses by enabling them to better serve their customers and collaborate more effectively."
The Intuit Partner Platform not only gives developers the opportunity to build Web-based applications, but also build successful SaaS businesses by taking the complexity out of managing infrastructure, hosting, user management, integration and billing. Developers can focus on developing innovative on-demand software solutions that solve unique and important problems for the four million small and mid-market businesses across the U.S. that use QuickBooks and the 25 million employees that work in those companies.
Full contest details, including entry criteria, downloads, a sample application, publishing directions and official rules can be found at http://www.developer.intuit.com/appcontest.
Important Dates:

Contest begins: 4/23/09 12:00 a.m. PT
Application Publishing Deadline: 6/23/09 11:59 p.m. PT
First and Second Prize Winners Announced: on or about 6/29/09
Workplace Users Counted and Contest Ends: 8/08/09 11:59 p.m. PT
Grand Prize Winner Announced: on or about 8/11/09
About Intuit Inc.
Intuit Inc. is a leading provider of business and financial management solutions for small and mid-sized businesses; financial institutions, including banks and credit unions; consumers and accounting professionals. Its flagship products and services, including QuickBooks®, Quicken® and TurboTax® software, simplify small business management and payroll processing, personal finance, and tax preparation and filing. ProSeries® and Lacerte® are Intuit's leading tax preparation software suites for professional accountants. The company's financial institutions division, anchored by Digital Insight, provides on-demand banking services to help banks and credit unions serve businesses and consumers with innovative solutions.
Founded in 1983, Intuit had annual revenue of $3.1 billion in its fiscal year 2008. The company has approximately 8,000 employees with major offices in the United States, Canada, the United Kingdom and other locations. More information is available at http://www.intuit.com.
About Xtify, Inc.
Xtify's mission is to revolutionize location based services by proving websites with location data derived independently of the wireless operators. The software is designed to allow users to determine with whom they share their location information. Web applications can utilize Xtify's free location lookups, or take advantage of the Company's proprietary layer of business logic API's. The Company is based in New York and backed by venture capital firms Acadia Woods Partners and ETF Venture Funds. Xtify works worldwide on most BlackBerry, Android, Windows and Symbian devices. For more information, please visit http://www.xtify.com.
###