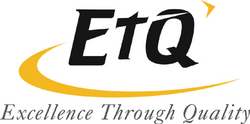 EtQ utilizes its own software for internal operations
Farmington, NY (Vocus) April 27, 2009
EtQ is pleased to announce that its Development Center has successfully been re-certified to ISO 9001:2008 certification, after an extensive audit conducted by Société Générale de Surveillance (SGS).
EtQ's Development Center is responsible for the development of software platforms and application suites to achieve and maintain compliance with Quality, Environmental, and Health and Safety management system requirements. Part of the objectives of the audit were to:

Confirm that the management system conforms with all the requirements of the audit standard,
Confirm that the organization has effectively implemented the planned management system,
Confirm that the management system is capable of achieving the organization's policy objectives
After conducting a full audit of the quality management system (QMS) at the EtQ Development Center, the SGS audit team concluded that EtQ has established and maintained its QMS in line with the requirements of the ISO 9001:2008 standard.
A large part of EtQ's success in maintaining a strong quality system lies in its broad range of products. EtQ uses its own software to manage and maintain all quality processes, using its best-in-class modules such as Document Control, Corrective Action, Employee Training, Project Management, Reporting, and more. "EtQ utilizes its own software for internal operations," stated Morgan Palmer, Chief Technology Officer at EtQ. "This enables us to see firsthand how EtQ's Quality software is able to improve efficiency in daily tasks across all departments, resulting in enhanced operations across an organization. EtQ's continued success lies in our software's ability to maintain strong quality management and environmental health and safety systems across the enterprise."
EtQ has previously gained certification to the ISO 9001:2000 standard, and this recent recertification demonstrates EtQ's success in their quality system. EtQ is proud to have achieved ISO 9001:2008 certification and will continue to provide a consistent, high-level of customer satisfaction with its quality software as well as to maintain its paperless system to enhance the efficiency of its customers operations.
About EtQ
EtQ is the leading Enterprise Quality and Compliance Management software for identifying, mitigating, and preventing high-risk events through integration, automation, and collaboration. EtQ uses best-in-class, integrated modules and enterprise application integration to manage and measure quality and compliance processes and execute organizational change. Key modules within the product include: Document Control, CAPA (Corrective and Preventive Action), Audits, Complaint Handling, Risk Management, Change Management, Employee Training, Project Management, Nonconforming Materials, Enterprise Reporting, and more than 20 additional compliance-oriented modules. With its world-class flexible workflow, collaborative platform, EtQ has developed a unique niche to support enterprises involved in various compliance management initiatives such as; cGxP (FDA), ISO 13485, ISO 9001:2008, ISO/TS 16949, ISO 14001, ISO 22000, AS 9001, TL 9000, OHSAS 18001, RoHS, Sarbanes-Oxley, HACCP, SQF, and similar standards for compliance and regulatory management. EtQ has been providing compliance solutions to a variety of markets for over 15 years.
For more information or to schedule a virtual demo, contact EtQ Inc., at 800-354-4476 or 516-293-0949, or e-mail us at info@etq.com.
EtQ is a trademark of EtQ Management Consultants, Inc. All other product names and company names are trademarks or registered trademarks of their respective owners.
###