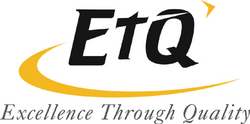 The process of reporting is automated through EtQ's Web-enabled Reporting application
Farmingdale, NY (Vocus) April 29, 2009
EtQ announces enhanced Reporting features in its newest release, Reliance 6.2.
In addition to drill-down reporting, quality alerts, and drag and drop reporting, EtQ's advanced reporting analysis and intelligence functions provide charts to see the "bottom line". A Radar chart is available to inform the user of different improvement areas; a Pareto chart tracks occurrence count as well as trends the cumulative data over time; Upper and Lower Control Limits can be added and, optionally, calculated, to track conformance with goals; and multiple visual improvements enhance the use of charts in the EtQ Portal.
EtQ's enhanced reporting function includes features such as an Overview Report that shows an organization how well they are meeting their metrics, and an Operational Report that shows frequency of events by occurrence type and effectively records ultimate results and effects. In addition, EtQ Reporting includes a Data table that provides a one-click export to Excel, and configurable templates for Key Performance Indicator (KPI) tracking.
"The process of reporting is automated through EtQ's Web-enabled Reporting application," stated Morgan Palmer, Chief Technology Officer at EtQ. "Using our Reporting features, information can be displayed as the user chooses--in numeric form, percentage form, and more. Users are also able to identify and track critical KPIs within their business and report on their Quality and Environmental, Health and Safety system. EtQ Reporting increases functionality for the user with EtQ's ability to be configured as needed by the user to fit their business needs."
EtQ Reporting is just one of the newest enhancements available in Reliance 6.2. For more details on EtQ's other enhancements to the latest releases, please visit http://www.etq.com.
About EtQ
EtQ is the leading Enterprise Quality and Compliance Management software for identifying, mitigating, and preventing high-risk events through integration, automation, and collaboration. EtQ uses best-in-class, integrated modules and enterprise application integration to manage and measure quality and compliance processes and execute organizational change. Key modules within the product include: Document Control, Enterprise Reporting, CAPA (Corrective and Preventive Action), Audits, Complaint Handling, Risk Management, Change Management, Employee Training, Project Management, Nonconforming Materials, and more than 20 additional compliance-oriented modules. With its world-class flexible workflow, collaborative platform, EtQ has developed a unique niche to support enterprises involved in various compliance management initiatives such as; cGxP (FDA), ISO 13485, ISO 9001:2008, ISO 22000, ISO/TS 16949, ISO 14001, AS 9001, TL 9001, OHSAS 18001, RoHS, Sarbanes-Oxley, HACCP, SQF and similar standards for compliance and regulatory management. EtQ has been providing compliance solutions to a variety of markets for over 15 years.
For more information or to schedule a virtual demo, contact EtQ Inc., at 800-354-4476 or 516-293-0949, or e-mail us at info (at) etq (dot) com.
Contact: Brenda Percy
EtQ, Inc.
800-354-4476 ext. 26
###