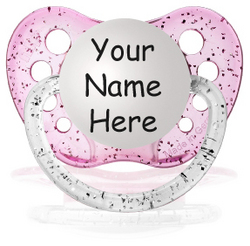 Las Vegas, Nevada (PRWEB) April 24, 2009
Personalized Pacifiers is a simple, cost-effective solution that easily identifies which pacifier is your child's, preventing the spread of germs and colds.
How to order: Log onto http://www.coolpacifiers.com and imprint between 11 to 22 letters on each pacifier, depending on whether you would like to engrave a first and last name. The site also enables you to view the names as you would like it to appear on your final product.
Regular Price: $ 15.00
Special Price this week: $ 9.99
FREE Shipping On $25+ Orders:
Order for at least $25 and receive FREE first class mail shipping (US only)
Expected Production Time:
1 - 2 Business Days
Expected Delivery Time:
USPS First Class: 2 - 5 Days
USPS Priority: 1 - 3 Days
Outside America: 5 - 10 Days
Safety on pacifiers:
Safety is our top priority. At Cool Pacifiers™ you are always sure to get the perfect choice for your baby. Our German made pacifiers are made of non-toxic, hygienically formed, natural bite-resistant materials designed to form naturally in the mouth, satisfying babies need for supplemental sucking and providing parents with peace of mind.
The Cool Pacifiers™ complies with the US Consumer Product Safety Commission Title 16 CFR Part 1511 requirements for pacifiers. Further we expressly state that our pacifiers do not contain LEAD or PHALATES.
For further information about personalized pacifiers please visit http://www.coolpacifiers.com
Wholesale opportunities available.
# # #