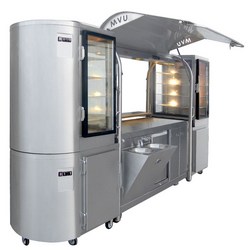 They feature an award-winning range of mobile food and beverage units that are extremely durable, cost-efficient, and adaptable to meet anyone's mobile vending equipment needs.
Phoenixville, Pennsylvania (PRWEB) April 23, 2009
Mobile Vending Systems, one of the most unique products ever developed for mobile food service and catering needs at all levels, are now available exclusively through 21st Century Products.
Mobile Vending Systems allows a business owner to open up their business wherever the action is - hotels and motels, business facilities, trade shows, outdoor events, colleges and universities, hospitals, airports, sports venues. The innovative product design can be adapted for vending food and refreshments, magazines and newspapers, good, books, shoes, clothing and services.
"Mobile Vending Systems provides a vendor complete portability, with totally self-contained water filter and waste disposal capability that allows you to prepare, deliver and serve hot and cold food and beverages at locations both indoors and outdoors," said Marian Moskowitz, President of 21st Century Products. "They feature an award-winning range of mobile food and beverage units that are extremely durable, cost-efficient, and adaptable to meet anyone's mobile vending equipment needs."
Originally created and manufactured in Australia, 21st Century Products has the exclusive sales and distribution rights to this innovative new product in the United States and South America.
"These stylish and functional Mobile Vending Systems give a new meaning to portable," Moskowitz said. "Features such as optional sinks, refrigerators, and attachable heating and freezing modules enable you to adapt your system from a display unit into a complete mobile food and beverage center. The highly mobile design of this vending system also means you can take your business to your customers, whether they are at a market, a ball game, or a function on the 40th floor."
Moskowitz founded 21st Century Products in 2006. An experienced entrepreneur and business executive, Moskowitz's company is a Certified Women Business Enterprise.
Since introducing Mobile Vending Systems early last year, Moskowitz's company has customers that include:

Universal Studios (Orlando);
Hale Koa Hotel (Honolulu, Hawaii);
IMC Caribe (San Juan, Puerto Rico Airport);
Restaurant Associates (New York);
Levy Restaurants at McCormick Place (Chicago);
Angora Convention Center (Puerto Rico)
Newseum (Washington, D.C.)
Rockford Public Schools (Rockford, Illinois)
Zoom Media USA (New York); and
International Centre (Toronto, Ontario, Canada).
21st Century Products recently provided a Mobile Vending Systems unit for the Inauguration ceremonies for President Barack Obama on the Mall in Washington, D. C.
Mobile Vending Systems, only available from 21st Century Products, are completely constructed of 316L stainless steel, which will not rust or corrode if used outdoors as well as indoors, and it may be locked up at night, covered with the cover which it comes with, and enlarged by an annex that protects the operator from the elements. Each unit also has a rain gutter system, and the gull-wing door design protects customers in rain conditions.
Each Mobile Vending Systems unit can be used indoors or outdoors, and feature integrated lighting systems, internal energy systems, internal hot and cold water, and are highly mobile. They are both NSF and CSA listed, and there is easy access to a separate service module.
Notably, Mobile Vending Systems units are able to be transported through almost any door in any building, with a top height of the "Maxi" unit at 79 inches (closed), length of 84 inches, and width of 30 inches.
Additional information about Mobile Vending Systems is available by visiting the 21st Century Products web site at http://www.mobilevendingunit.com, or by contact the company by phone at 610-983-4630.
###