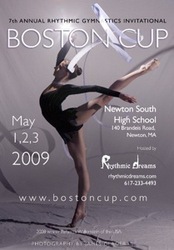 Newton, MA (PRWEB) April 24, 2009
The Boston Cup brings together over 200 athletes from across the country and around the world to compete for top honors in the Olympic sport of Rhythmic Gymnastics. The Boston Cup will be hosted by Newton South High School on Saturday and Sunday, May 2 and 3, 2009. For more information, go to http://www.bostoncup.com.
The Boston Cup, hosted by Rhythmic Dreams Gymnastics School, is one of the biggest annual Rhythmic Gymnastics competitions in the world. This year, over 200 athletes are competing from seven countries and seven U.S. states. The competition is being hosted once again by Newton South High School. The competition begins at 8:30 am on Saturday and Sunday. Of particular interest will be the beautiful Exhibition Gala, held on Sunday evening from 4:00-7:00.
Rhythmic Gymnastics is a sport that combines elements of ballet, gymnastics, theatrical dance, and apparatus manipulation (such as balls, hoops, ribbons, and clubs). Routines are set to music and can be performed by individuals or small groups. The sport is noted for its incredible athleticism and inspiring beauty.
For additional information on the competition or on Rhythmic Gymnastics, please go to http://www.bostoncup.com or http://www.fig-gymnastics.com, or contact smaranda @ rhythmicdreams.com. Tickets can be purchased at http://www.brownpapertickets.com/event/64193. Tickets are $10 in advance and $15 at the door. All Newton South High School students and faculty receive free admission with a valid ID.
About Rhythmic Dreams:
Rhythmic Dreams was founded in 2002 in Newton, Massachusetts. Rhythmic Dreams is a nonprofit organization dedicated to training recreational and competitive gymnasts from beginner to elite levels. Rhythmic Dreams serves over 200 athletes each year ranging in age from 3 to 17. The students are trained by former competitive gymnasts. Several of the school's pupils have gone on to the Future Stars and US Junior Olympics each year! Rhythmic Dreams endeavors to develop not only high-quality athletes, but self-confident, disciplined, and healthy young women who strive for excellence in all they do, even after they've retired from the sport. Contact Smaranda Moisescu, Executive Director, at 617-233-4493 or smaranda @ rhythmicdreams.com for more information.
Contact:
Smaranda Moisescu, Executive Director
Rhythmic Dreams Gymnastics School
617-233-4493
smaranda @ rhythmicdreams.com
http://www.rhythmicdreams.com
###