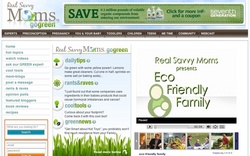 Real Savvy Moms Go Green Campaign
New York, New York (PRWEB) April 23, 2009
Real Savvy Media, Inc. Announces the launch of the "Real Savvy Moms Go Green Campaign," featuring eco-friendly content, experts, videos, tools, a marketplace and much more. The launch coincides with the introduction of Seventh Generation and Horizon Organic Ad Campaigns- Two companies who are Green Experts and know what it means to Moms. Real Savvy Moms
Green experts say that moms are leading the movement to make our planet a healthier place to live. We totally agree - because there is no better motivator than our children, and their children's children. And gauging by the overwhelming interest from the Real Savvy Moms' audience on all things green, there's never been a more ripe time to step up coverage of the environmental movement.
"We're kicking things off with the Environmental Expert Jennifer Taggart, who officially joins the Real Savvy Moms team of A-list experts this month. As an environmental attorney, mom of two, and author of the forthcoming Smart Mama's Guide to Going Green, Taggart is the perfect person to guide our readers on green matters and raising children green," says Maureen Connolly, Real Savvy Moms Editorial Director.
Supporting video content features environmentally focused segments from RSM's award-winning public network TV series "Real Moms," including "Organic Baby Food," "Nature Deficit Disorder," and "Green Cleaning Your Home" with Good Housekeeping's Carolyn Forte. And because everyone from Meryl Streep to Jennifer Aniston and Ed Begley are being featured in green guides, Real Savvy Moms Go-Green will also feature reviews on the must-reads. They round it out with a new daily 'Rants and Raves' section where readers can comment on a hot topic; with a green marketplace of eco-friendly products they love (specially discounted for RSM members); plus, there are green-focused articles on pregnancy, beauty, and toy safety, it's very "wholistic."
The kickoff also coincides with the launch of two new client's ad campaigns featuring Seventh Generation and Horizon Organic Milk. Supporting their campaigns are sponsored educational videos featuring nationally-recognized Pediatrician and Organic Expert Dr. Alan Greene speaking about DHA and green-cleaning the home, both of which debut this month.
For more information on editorial or advertising opportunities, contact Sujin Lee, Real Savvy Moms' director of sponsorship at (212) 244 3456.
About Real Savvy Media, Inc.
Real Savvy Media, Inc's. Premier Property is "Real Savvy Moms," a groundbreaking initiative that delivers information and advice for families on general wellness, nutrition, exercise, and emotional well being through multiple interactive and informative media platforms. These platforms are specially designed to help expectant and new mothers stay informed throughout pregnancy and the various stages of motherhood.
Real Savvy Media, Inc's. unique multi-tiered media approach includes an award-winning website, television series, online banner advertising, email newsletters, webcasts, an unrivaled portfolio of on-line video, which collectively help Brands forge valuable relationships with their target audience at key times of influence in their lives. Real Savvy Moms Real Savvy TV
###