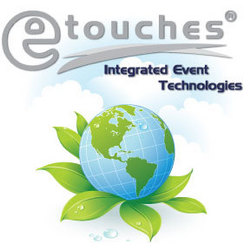 Ridgefield, CT (PRWEB) April 23, 2009
etouches, leader in SaaS event management software, announces its support of Earth Day by offering a 10% discount off of the full suite rate on any Green events through 2009.
etouches enables clients to utilize fewer servers freeing up more internal datacenter space and lowering energy bills. SaaS tools are sustainable methods to completing more work using less time and money.
etouches event management suite consists of 14 flow through modules created to streamline the event process. Online event registration capabilities include reports on attendees, sessions, and revenue, automatic emails to confirmed and incomplete registrants, and customized event web site development in more than 20 languages and currencies. Because all historic and current event data is saved and managed online and accessible 24/7, the SaaS modules will save you money on print costs and save the planets' natural resources.
All of etouches' modules are fully reportable and customizable, ensuring accuracy of event details and progression in a sustainable way. etouches continues to innovate the meetings and event space with new approaches to streamlining the event lifecycle.
About etouches®:
etouches provides event & meeting planning professionals an online suite of integrated applications that offer efficient, cost-effective tools to support the planning and management of any type of meeting. etouches works the way you do, capitalizing on 25 years of event planning, to streamline the execution of world-class events from conception to delivery. Integration with other business management tools such as online travel booking, financial software and CRM systems enables results reporting and ROI.
etouches is :
Powerful - integrated modular system with your other business tools such as online travel booking, financial management, and CRM enabling closed-loop reporting and ROI
Global - currently offered in 14 languages including Russian, German & Czech
Affordable - Offered as a Software as a Service (SaaS). No software license fees.
###