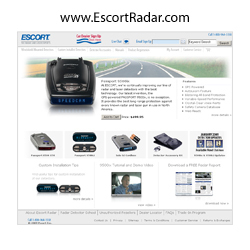 We want to share with writers and media communicators how they, and we, can help solve one of their readers' pressing needs
West Chester, OH (PRWEB) April 27, 2009
ESCORT Radar, maker of the world's best radar and laser detectors, will be presenting at the Texas Auto Writers Association (TAWA) 2009 Spring Challenge in Fort Worth, Texas, April 26-27. ESCORT will be promoting their new Passport 9500ix GPS-enabled windshield mounted radar and laser detector and the new Passport 9500ci Custom Installed radar and laser defense system. "We want to share with writers and media communicators how they, and we, can help solve one of their readers' pressing needs," Ron Gividen, ESCORT's Tactical Marketing Manager pointed out. "Every driver is aware of the increased numbers of speeding tickets being issued - we have products that work to protect drivers from being targeted and ticketed."
ESCORT understands that the need for targeting awareness is more present than ever before -- with local economies and tax revenues down, ticketing is on the increase to help shore up budget shortfalls. At TAWA, ESCORT will help writers understand how they can help their readers by communicating to them effective ways to increase their driving awareness about being targeted and ticketed.
The World's First Internet Ready, GPS─based Radar Detectors
Known as the category leader and innovator, ESCORT developed the world's first internet ready, GPS based radar detectors -- the Passport 9500ix windshield mount model and the Passport 9500ci custom-installed version. ESCORT again established a new technology standard by introducing its patented TrueLock™ feature. TrueLock™ uses GPS technology to eliminate false alerts by indexing their exact location and frequency. And their new AutoLearn™ feature automatically analyzes all incoming signals and automatically eliminates false signals. "This artificial intelligence makes the PASSPORT 9500 series radar detectors the most accurate and intelligent radar detectors on the road. You drive, they learn. End of story," said Coomer.
In addition to its class-leading performance against radar and laser guns, the windshield mount 9500ix also features variable speed sensitivity, which regulates the detectors' sensitivity based on the speed of the vehicle. This level intelligence provides maximum performance when you need it most, and reduces unneeded alerts when the driver is not at risk. The 9500ix is also compatible with the ESCORT Laser Shifter ZR4, which provides the ultimate laser protection.
The PASSPORT 9500ci is a complete integrated radar and laser defense system. Once installed, it is completely hidden from unwanted attention, yet delivers the ultimate protection. Incorporated into its design is a new dual antenna, which provides the industry's best long-range warning against all radar guns. Its receiver is also completely undetectable to all known scanning devices, making the 9500ci the stealthiest custom-installed detector in the world. Laser protection is accomplished by multiple sensors mounted front and rear of the vehicle. These laser sensors also have "Shifting" capability, which significantly reduce the affect of a targeting laser gun.
Both the 9500ix and the 9500ci also address the single fastest growing threat drivers face today - the increasing numbers of fixed position speed and red light cameras. Both detectors meet this expanding new threat by incorporating the ESCORT Defender™ database, which identifies these threats well in advance.
About ESCORT, Inc.:
ESCORT Inc. is the leading manufacturer of high-performance radar and laser detectors. ESCORT manufactures products under the ESCORT, Passport, SOLO, Vector and BELTRONICS brands. The company is headquartered in West Chester, Ohio with its principal manufacturing facility located in Mississauga, Ontario, Canada.
Editorial Contact:
Ron Gividen
513.870.8500
###