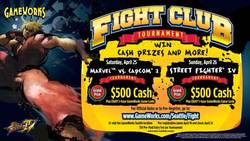 Seattle, Washington (PRWEB) April 23, 2009
GameWorks at 7th and Pike Street will host its inaugural "Fight Club" video game tournament April 24-26, 2009. The tournament will feature two of the hottest video games in the fighting genre: MarvelTM vs. Capcom® and Street Fighter® IV.
The MarvelTM vs. Capcom® championship will be held on Saturday, April 25, and the Street Fighter® IV finals will be on Sunday, April 26. The champions on each game will earn a Grand Prize of $500 and eight hours of free video game play at GameWorks.
There is a $10 pre-paid entry fee per tournament, and players must be at least 18 years of age. Competitors can download a registration form at gameworks.com/seattle/fight. Registered players may practice free of charge from 5:00 - 11:00 p.m. on Friday, April 24.
As the leader in out-of-home gaming, GameWorks is rapidly becoming the venue of choice for game competitions. According to Pat Hart, Executive Vice President for GameWorks, "Competitive gaming is becoming very popular - it's even being broadcast on TV, as well as online. Gaming is no longer a solitary pursuit; today's consumers want to share their passion with others. Created by industry leader Sega, GameWorks is the perfect place for gamers and their friends to gather. We offer state-of-the-art video games and classic games, plus great food and a fun bar scene, in major metro areas all over the U.S."
Mr. Hart continues, "We've already held several hugely successful game tournaments, including a pinball tournament in Chicago that brought competitors from throughout the region. We plan to host many more competitions this year, at GameWorks Seattle as well as our other locations. Our goal is to build a community of gamers by providing a venue for outstanding players to compete in a fun and high-energy environment."
About GameWorks
Owned and operated by Sega Entertainment U.S.A, Inc. (SEUI), GameWorks (http://www.GameWorks.com) is a unique casual dining and entertainment concept featuring state-of-the-art video games and simulators, along with traditional favorites like pinball and pool, in 15 locations throughout the U.S. SEUI is a division of Sega Sammy Holdings, Inc. (SGAMF), a Japan-based holding company whose Amusement Facility segment is engaged in the development, operation, rental and maintenance of amusement facilities.
###